Go Back To The Future With The Icon Airframe Construct Full Face Helmet
Chaparral Motorsports
|
December 29, 2013
The right street bike helmet will balance functionality and appearance - a task that is easier said than done. While some riders may have to make sacrifices in their desires, options like the [mageProductLink sku="038-0101-4903" title="Icon Airframe Construct Full Face Helmet"]Icon Airframe Construct Full Face Helmet[/mageProductLink] ensure that they can truly have the best of both worlds.

Top-Of-The-Line Tech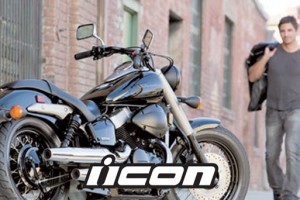 This Icon product is dedicated to providing top-notch safety to wearers. After all, you should only be wearing helmets you can trust, and this item can meet your needs with ease. It all starts with the exterior of the helmet, which is a shell made from Fiberglass, Dyneema and Carbon Fiber. This special blend of materials was designed to remain strong in the event of a collision, so you can be sure your head is being protected from all kinds of harm.

The interior provides excellent comfort and protection for all wearers. The HydraDry padding is removable and washable, with only a few easy-to-use snaps attaching it to the helmet. Overall, it is quite a snug fit, and that is something that should be considered if you are considering which size to buy.

This helmet also offers an anti-fogging system, multiple intake and exhaust ports, a secure shield locking system, a removable chin curtain and a removable breath deflector. What you do or don't include on the Icon helmet may depend on the road and weather conditions, as well as your personal preference, but having the range of options will likely be appreciated.

Icon has tested all of the features in a wind tunnel, and it made some changes to improve performance in these high-stress situations, so you can rest assured the helmet is capable of handling the intense demands of the road.

A Futuristic Look
[mageProductLink sku="038-0101-4903" title=""]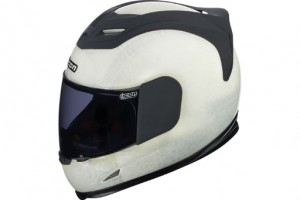 [/mageProductLink]A model with such state-of-the-art features needs an equally innovative design, and the Icon Airframe Construct Full Face Helmet certainly delivers on this front. As a full-face helmet, this product does its job - your entire head is neatly covered and protected. With an oval shape, quick-change visor and several removable or adjustable features, you can tweak the helmet to be the most comfortable and effective for you.

The Icon Airframe Construct Full Face Helmet is available in several sizes to fit riders of any size or age. However, it is only available in the white coloring with black accents, which really sets off the special "naked" amber weave finish that has been applied to the exterior. This glossy coat is an eye-catching option that works well with the included dark smoke Proshield.