HJC IS-Max Bluetooth Modular Helmet Keeps Riders Safe, Connected
Chaparral Motorsports
|
December 28, 2013
Motorcycle helmets have evolved into an accessory that is about much more than protection. Although shielding riders from injury is still the most important responsibility of these items, there are a variety of other tasks that also need to be considered when choosing a helmet. One of these qualities is the potential for connectivity, as communication devices are quickly growing in popularity.

Riders who are looking for a product that offers protection and cutting-edge technology can turn to the [mageProductLink sku="035-958-141" title="HJC IS-Max Bluetooth Modular Helmet"]HJC IS-Max Bluetooth Modular Helmet[/mageProductLink].

The Main Draw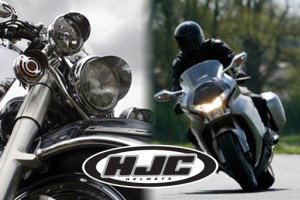 The exterior of this HJC helmet is similar to other street bike helmets on the market. It features an oval shape and full-face protection, with several ergonomic details constructed into the outside. Made from a polycarbonate composite, it is the ideal balance between maintaining a low weight and having excellent strength, and its comfort has also been optimized using CAD technologies.

While built to provide protection for the rider's entire face, this piece of street bike gear boasts a single-button, quick-release system for the clear faceshield and the entire chin bar, so you can convert the helmet into its open face mode in maximum safety. In addition, the IS-Max comes complete with a three-stage smoke-tinted sun shield.

On the inside of the HJC helmet is SilverCool padding. This comfortable, removable and washable interior is designed to wick away moisture and stave off odors. It also includes an antibacterial element, ensuring that all riders are safe from any germs they may encounter in their adventures. That interior is kept cool thanks to an Advanced Channeling Ventilation System, which cycles air in from the front of the helmet to the back while also flushing heat and humidity out.

Stay Connected
Of course, one of the most appealing characteristics of the HJC IS-Max Bluetooth Modular Helmet is its connectivity. It is compatible with the [mageProductLink sku="011-701-002" title="ChatterBox XBi2-H Plus Bluetooth Wireless Intercom"]ChatterBox XBi2-H[/mageProductLink] Bluetooth wireless communication system, and there is even a built-in pocket that is capable of storing the device safely. Not only does that secure an expensive piece of gear, but it also minimizes wind resistance and leaves the attractive, ergonomic design of the helmet intact.

Although the intercom is not included with the HJC IS-Max Bluetooth Modular Helmet, the mere possibility of hands-free Bluetooth connectivity is enough to get some riders on board. Another benefit for riders? The IS-Max comes in six different colors, ranging from classic hues such as black, silver and white to more stylish options like matte black, wine red and a gray anthracite.