AGV K3 Dreamtime Full Face Helmet Is A Blast Of Color
Chaparral Motorsports
|
December 27, 2013
The best helmets offer exemplary protection in addition to high-class style. After all, you should want to wear street bike gear because of its safety features as well as its impressive good looks.

Luckily for riders, the [mageProductLink sku="231-0101-5274" title="AGV K3 Dreamtime Full Face Helmet"]AGV K3 Dreamtime Full Face Helmet[/mageProductLink] is one such product. Made from a highly resistant thermoplastic resin shell, this strong helmet is fully capable of protecting your head from the dangers of riding a motorcycle. Air vents are located on the front, chin and side areas to promote air flow, along with a top vent and rear extractors.

[caption id="attachment_29968" align="alignright" width="300"]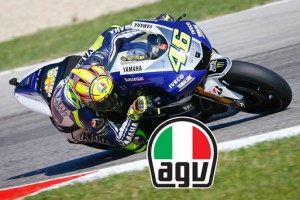 Valentino Rossi sporting his AGV helmet at the 2013 San Marino MotoGP.[/caption]

All of the padding is made from a Dri-Lex fabric for optimum comfort. While there is a nose protector for those who appreciate the snug fit, it can be removed.

A large clear visor shields your eyes from glare while providing a full view of the road ahead. You can also choose to order a [mageProductLink sku="231-0130-0307" title="AGV K3 Tinted Faceshield"]tinted shield[/mageProductLink] and install that instead, adding extra eye protections and some mystery to the design. Anti-fog technologies have already been coated onto the shield.

With a name like "Dreamtime," you can be sure the design of the helmet is truly something out of your imagination. It boasts an explosion of color, with a bright sunburst adorning one side. The yellows, reds and oranges that make up this design are accented by a blue backdrop, as well as several other cool patterns, and all are created in a mosaic style that is not like any other motorcycle gear you have seen before. With famous sun and moon graphics designed by Drudi Performance for MotoGP champion Valentino Rossi, this sportbike helmet is an ideal mix of safety, style and stellar features that will make it easy to wear while on a bike.