Alpinestars Fluid Pro Knee Brace Offers Safety, Security And Flexibility
Chaparral Motorsports
|
December 26, 2013
Motocross riders are used to putting their bodies on the line for the love of the sport. However, that doesn't mean there isn't a number of steps that can be taken to improve overall personal safety. This goes beyond investing in the right helmet and dirt bike apparel. While those are certainly important, sometimes it's the additional items that can make the biggest difference.

A prime example of this is the [mageProductLink sku="020-2704-0323" title="Alpinestars Fluid Pro Knee Brace Pair"]Alpinestars Fluid Pro Knee Brace Pair[/mageProductLink]. These protective shields are designed to guard your knees from all kinds of damage or harm, and investing in the right product can have a huge impact on a rider's experience on a dirt bike.

The Importance Of Knee Braces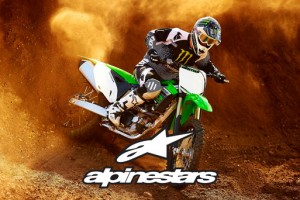 Although some may think that this piece of protective gear is only for those who have experienced a previous injury, it is actually a vital part of preventing any harm. These devices do more than simply guard your knees from debris or collisions, however. They can also be used to stabilize your ligaments, preventing damage that stems from hyperextension or accidents.

Knees play a significant role in the control of a dirt bike. The best knee braces will provide excellent mobility and flexibility for all riders. Because you will frequently need to flex your knee or extend your leg as you ride a dirt bike, making sure that the brace doesn't inhibit your range of motion is incredibly important, especially because your legs will likely have to be used to steady a bike after coming to a stop.

About The Alpinestars Fluid Pro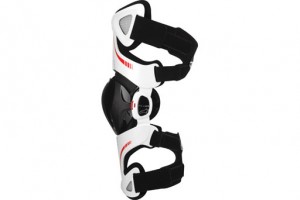 One of the first things you'll notice about the Alpinestars Fluid Pro Knee Brace is its incredibly strong outer shell. It's made from a high-performance fiberglass compound, which has been designed to offer excellent strength and integrity. This excellent exterior is amplified by a new knee cap protection system. Body parts are secured in the right position to prevent injury with the help of this updated design, and the knee pivot system allows riders to move about freely without sacrificing safety thanks to the use of double-pivoting hinges. Elastic straps located throughout the Fluid Pro also enable riders to move their entire leg and both knees easily.

The Alpinestars Fluid Pro Knee Brace Pair comes equipped with plenty of padding and ventilated zones to keep its user comfortable. Materials have also been optimized to work at extremely low temperatures, ensuring that the intense strength and security will be present no matter when you are using it.

Selecting The Right Pair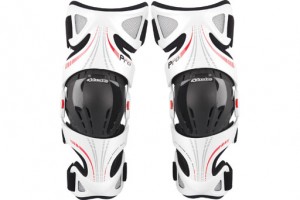 Finding the right knee brace can be difficult. With so much to consider, you'll want to search for an option that has proven itself to be among the top products on the market. The Alpinestars Fluid Pro Knee Brace Pair has done just that. With the strong reputation of Alpinestars behind it, you can be sure you are receiving top-notch quality and state-of-the-art technology that will have the knee brace meeting all of your demands.

The Alpinestars Fluid Pro Knee Brace Pair also comes available in multiple sizes and features adjustable spacers. This allows you to select an option that is right for your body, while also making changes to match your personal growth or fit over certain dirt bike pants or clothing. The professional white, red and black color scheme is something you can be proud to display if you prefer wearing your brace over your motocross pants. Add in details like the Alpinestars' size adapter system, which allows a rider to take advantage of all of the versatility of the product, and any user can rest assured that they'll able to use the knee brace easily and effectively.