Try The AGV Sport Telluride Vented Textile Jacket For Street Bikes
Chaparral Motorsports
|
December 24, 2013
When shopping for street bike jackets, riders typically have to choose between style and skill. Many options tend to skew one way or the other, causing bike owners to make tough decisions about what they really value in their motorcycle gear. Luckily, there are a few products that strike the right balance between these two qualities, allowing riders to look good and stay safe while zipping down the road.

One of these top-notch items is the [mageProductLink sku="231-0029-x-m" title="AGV Sport Telluride Vented Textile Jacket"]AGV Sport Telluride Vented Textile Jacket[/mageProductLink]. Outfitted with a number of excellent features and a sleek appearance, this jacket is one that street bike riders will want to consider adding to their collection.

Keep The Elements Out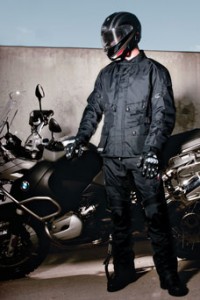 Although the exterior has a definite leather-like look, this jacket is made from textile. That material creates an outer layer of protection that is completely windproof and waterproof. Not only can it protect you from the elements and winds you'll likely encounter during your adventures, but you'll also benefit from the abrasion-resistant quality of the material. This increases the odds that small collisions or scratches won't damage the jacket or cause injury.

Underneath the outer layer is a Reissa-made membrane. This adds yet another level of waterproof protection to the jacket, but you won't find it causing any problems, as it is a breathable fabric and allows for ventilation to still occur. The next layer of protection is a removable and washable quilted liner, which can be zippered in over mesh lining. Anyone riding street bikes in the winter or other times with cold temperatures and inclement weather will appreciate this padding, as it is ideal for retaining body heat.

Parts of the body that are usually susceptible to injury during a collision are protected with the AGV Sport Telluride Vented Textile Jacket. Shoulder and elbow protectors are made from dense materials, adding extra protection to these weak joints. Additionally, the entire back is covered with memory foam padding, ensuring that you feel comfortable and safe at all times.

Keep Comfort In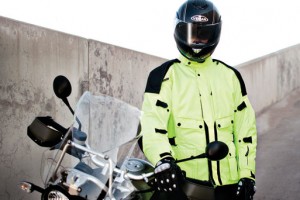 The exterior is masking a padded inner lining that is able to keep riders protected and comfortable. It starts with the actual construction of the AGV Sport Telluride Vented Textile Jacket. The arms have been pre-curved to mold seamlessly with your body, and the zip-open air vents are placed on the shoulders and back to ensure proper air flow is taking place when you need it most.

For added security, an elastic waist gatherer is located on the back of the jacket, allowing wearers to customize the fit of the jacket for the ultimate snugness and security. An adjustable Velcro waist, collar and cuff straps are also integrated into the AGV product, which lets you decide the manner and style you want to wear it. You can also use the Velcro wind flap to secure the area over the zipper, effectively closing up all of the weakest areas.

Keep It Practical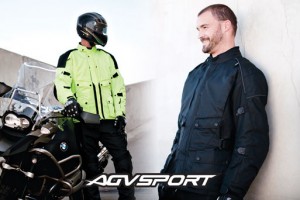 Above all else, the AGV Sport Telluride Vented Textile Jacket offers a practical solution for street bike riders. Additions like reflective piping make the jacket safe to wear even in fading light, despite its black color; or you can go with the [mageProductLink sku="231-0029-hy-m" title="AGV Sport Telluride Hi-Viz Vented Textile Jacket"]hi-visibility[/mageProductLink] version. There are also multiple pockets scattered throughout the product, including four front horizontal entry pockets, two front vertical pockets on the jacket chest, one on the sleeve and a larger storage compartment in the rear that is big enough to hold the quilted liner of the product if you choose to remove it.

With so many benefits, the AGV Sport Telluride Vented Textile Jacket can be a solid motorcycle jacket for any street bike rider.