Weak Points Become Strong With Alpinestars Bionic Neck Support Pro
Chaparral Motorsports
|
December 21, 2013
Part of the fun of motocross is traveling into the unknown. With so many challenges and obstacles waiting around each turn, riders always have to be on top of their game. Even the most vigilant of enthusiasts need to be prepared for anything, and that frequently involves investing in the most advanced safety gear on the market.

One of the leaders in this regard is Alpinestars, and the [mageProductLink sku="020-2707-0099" title=""]Alpinestars Bionic Neck Support Pro[/mageProductLink] is a must-have for anyone engaging in some thrilling adventures on a dirt bike.

Safety Is Key
[caption id="attachment_29899" align="alignright" width="300"]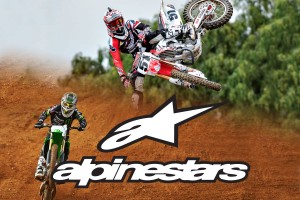 Adam Cianciarulo and Justin Barcia demonstrating safe riding with Alpinestars Bionic Neck Supports.[/caption]

When it comes to motocross, safety is of the utmost importance. That's the major advantage of the Bionic Neck Support Pro; you get an incredible level of safety and protection. Although neck guards have not been around for a very long time, they have already gone through several rounds of updates and enhancements. The end result is a generation of products that have been tested for a variety of situations.

A Smart Design
Because riders may be constantly growing - and neck guards are always evolving - getting a product that can be adjusted to meet your needs is key. The Alpinestars Bionic Neck Support Pro is made with a fiberglass resin, giving it exemplary strength and crash resistance. It has also been constructed in a way that prevents injury. Rear support works with motocross helmets of different sizes and shapes to limit the exposed body and reduce hyper-flexion of the head.

The Alpinestars Bionic Neck Support Pro has also been designed to hold its own in all conditions. It was created to hold steady in low temperatures, even those below the freezing point. There is also an advanced quick-release system that enables a rider to disengage the collar at a moment's notice. That is ideal for the fitting of the guard, as well as any emergency situations that may require a fast removal.

Don't Sacrifice Comfort
[mageProductLink sku="020-2707-0099" title=""]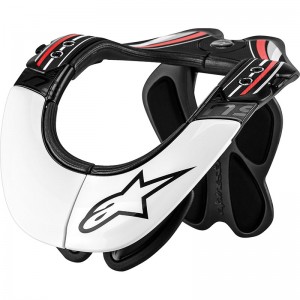 [/mageProductLink]
Some riders may be concerned that investing in too much protective gear inhibits their range of motion. Excess padding may also be too bulky or cumbersome, causing riders to turn their attention away from the trail ahead of them and spend too much time fiddling with their dirt bike gear. Compressed foam padding covers the underside, creating a comfortable fit and distributing the force of impact during a collision. At the same time, the neck support is incredibly lightweight, allowing riders to keep a high level of flexibility and movement. While it may take some time to adjust to the change in how you move your head, that is a small price to pay for improved protection.

This neck support comes equipped with a strap system that affixes the shield snugly to the body. It can also be worn under or over a motocross jersey, depending on the personal style of the rider.

Why Alpinestars?
Alpinestars is one of the most trusted names in motorsports. The brand has been established as one of the most highly regarded in the world, consistently creating top-notch products for everything from street bikes to dirt bikes since its founding in the early 1960s. Today, riders interested in motocross will likely be particularly drawn to this manufacturer, as Alpinestars produces a wide variety of helmets, apparel and similar gear that works best on the trails.

Working at the forefront of technology and design, Alpinestars is known across the world of motorcycles for its impressive creations and tradition. This kind of appealing, high-quality gear includes the Alpinestars Bionic Neck Support Pro, and this neck guard will certainly be an intriguing investment for many.