Stay Protected With The Tour Master Defender Two-Piece Rain Suit
Chaparral Motorsports
|
December 20, 2013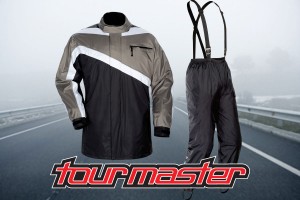 Now that winter has arrived, most riders are staring at several long months of cold temperatures and inclement weather. Even in areas where snow may be a scarcity, there will likely be many instances of rainstorms or wet conditions that affect how you ride. For these occasions, there's the [mageProductLink sku="03-84850" title=""]Tour Master Defender Two-Piece Rain Suit[/mageProductLink], which is able to meet all of the requirements you could have for rain gear.

Excellent Protection

One of the most important aspects of a rainsuit is that it provides comprehensive protection, and that is certainly the case with the Tour Master Defender Two-Piece Rainsuit. Made from polyurethane-backed nylon, this suit is waterproof and comes with sealed seam construction to keep the elements out.

Riders who want to make sure their whole body stays dry can take advantage of the suit's under-the-helmet hood. That feature keeps rain off the neck and collar, all without interfering with the adjustable, Velc​ro-closed neckline.

Practicality
This Tour Master rainsuit also comes with several features that make it easy to use. The addition of two large side-entry pockets allow you to keep possessions close, and separate waterproof zippered chest and thigh pant pockets provide a spot with a little extra security for important items. There is even a hidden collared pocket that can be used to store the jacket's hood when it's not being utilized.

The pants come equipped with a nylon seat panel that prevents slipping on a motorcycle seat, as well as elastic cuffs and a flexible waist for supreme comfort and fit.

Extreme Comfort
Of course, you'll want all of your motorcycle gear to be comfortable, regardless of the kinds of tough conditions it is intended to be used for. You won't get overheated thanks to underarm vents, which let your body breathe while wicking away moisture. A polyester mesh lining also encourages air circulation within the suit, meaning you'll be able to stay cool and comfortable even when protected from the elements.

You can ensure that the entire suit fits well with your body type as well. The size-matched jacket and pants are sold together, and are both designed to be worn over other motorcycle apparel. All you have to do is store the rain suit in a storage compartment or backpack and take it out when needed - it will