Shoei VFX-W K-Dub 3 Helmet Is Great For All Ages And Sizes
Chaparral Motorsports
|
December 18, 2013
[caption id="attachment_29877" align="alignright" width="300"]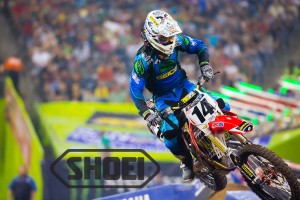 Shoei VFX-W K-Dub 3 Motocross Helmet on Kevin Windham at the 2012 AMA Supercross in Houston.[/caption]

Shoei has long been associated with off-road and motocross helmets. Having been in the business of motorcycle gear since 1959, the brand has had decades to tinker with its design and special features included on many pieces. The end result is several exemplary products that can serve anyone from beginners to professionals.

Riders looking for helmet options that will look and feed great will want to consider the [mageProductLink sku="375-0145-8101-03" title=""]Shoei VFX-W K-Dub 3 Helmet[/mageProductLink]. With an extended warranty date stretching five years from the purchase date or seven years from the helmet production date, you can take advantage of the item's longevity and dependability without so much as a second thought.

A Sleek Look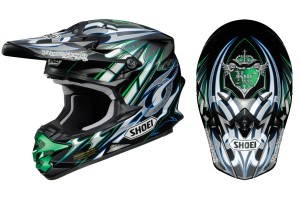 One of the first things you'll notice about this Shoei helmet is its aerodynamic exterior. Created with laser-cut fiberglass using the brand's Advanced Integrated Matrix Plus construction. This results in a strong yet lightweight product that is capable of holding steady against collisions and debris. It also performs well in impacts by absorbing and distributing the shock of a crash for reduced injury.

The Shoei VFX-W K-Dub 3 Helmet is available in a few different color schemes, including red and white, blue and white, and green and black. It can also be ordered in four shell and five liner sizes, making it a great choice for anyone from children to full-grown men. While the size and fit can be easily customized, touches like the ergonomic mud guard, practical chin strap and wind-resistant properties are the same on all models. This ensures that you'll get all of the top qualities that make this Shoei product a competitive helmet no matter who uses it.

Great On The Inside
While the exterior of the Shoei VFX-W K-Dub 3 Helmet is excellent, the interior boasts just as many stellar features. The helmet's inner liners are made from multiple layers, and the density of the padding is increased in areas that are susceptible to harm. Cheek pads and the center pad are removable and washable as well, and the center pad is even adjustable to fit a rider's head.

Additionally, riders can benefit from the updated mouthpiece of the helmet. A mesh screen keeps roost out of the vent also allowing cooling air to get in through a filter. This foam filter can be easily removed and washed for reuse, ensuring that a rider is only breathing in fresh air and not leftover debris from their adventures. In fact. there are many vents situated around the piece to keep air flowing freely from the front to exhaust vents in the back.

Seeing Is Believing
Another one of the top-notch features on this Shoei VFX-W K-Dub 3 Helmet is its visor. It has been manufactured to breakaway during an impact so as not to damage a rider's face. The adjustment slot of the visor of this Shoei helmet has been lengthened to offer extra protection from the sun, which is also aided by a matte black strip integrated into it. These options allow motocross fans to fiddle with the helmet until they achieve the perfect fit and most comfortable settings.

Perfect For The Pros
If for some reason you're still not sold on the Shoei VFX-W motocross helmet, just take a look at some of the big names in motorsports who wear the helmet. Professional riders like Kevin Windham, Josh Grant and Destry Abbott all turn to the Shoei product for protection; in fact the K-Dub 3 model bears the personal graphics, complete with KW and crown, worn by Kevin Windham during the 2013 Supercross season. This helmet is perfect for the pros and is available to any motocross enthusiast who wants to take advantage of its excellent protection and slick features.