Gifts That Go! Products To Go Faster, Go Further, Or To Just Get On And Go!
Chaparral Motorsports
|
December 18, 2013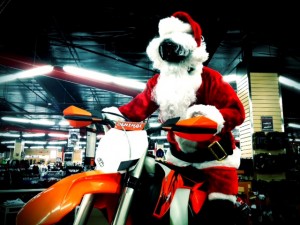 Are you still looking for Christmas gift ideas for the dirt bike rider in your life? Maybe your family is big on the Polaris RZR and you want to outfit your ride for more excitement on the dunes? Or maybe the kids have been really good this year and you want to get them something really special this year. Whatever your situation and no matter who you are shopping for below is a list of gift ideas for the motorsports enthusiasts that will help their machines go faster, go further, or in some cases allow them to just get on and go!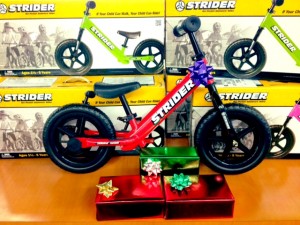 Strider Balance Bike
Every kid dreams of waking up Christmas morning and seeing a shiny new bike under the tree. Well, if you've got little ones who haven't thrown a leg over a bicycle before Strider's balance bikes are an excellent starting point. With no pedals and no training wheels, the balance bike lets children as young as two years old scoot around using their feet. Eventually with enough practice and guidance from mom and dad the child will develop their balance and spatial skills to the point to where they can pick up their feet and coast around on the flats and down hills. By the time they are ready for a pedal bike they will have developed the skills necessary to skip right past training wheels and go straight to a traditional two-wheeler. For die-hard moto parents, Strider offers a selection bikes dressed in factory color ways and logos from major dirt bike manufacturers like Yamaha, KTM, Suzuki, and Honda. If you're looking for a really great deal on a Strider bike, Chaparral Motorsports is currently running a special for 25-perent off select bikes.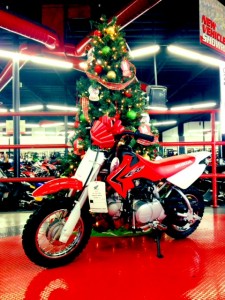 Honda CRF 50
For those kids that have fully grasped the coordination and skills associated with a bicycle, maybe it's time to put a little more power under them in the form of a mini dirt bike. Honda's 50 line of dirt bikes have been one of the top go to bikes for little beginner riders for years. With features like an adjustable throttle limiter, three-speed transmission with automatic clutch, and the proven reliability of the bullet proof 49cc engine, the Honda CFR 50 is a great starter bike that will help give your child gain confidence, responsibility, and provide hours of family fun.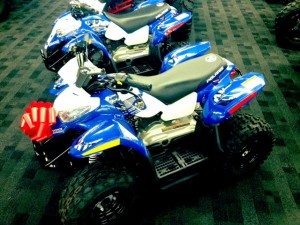 Polaris Outlaw 50

If you're more of a four wheel kind of family Polaris' Outlaw 50 is an excellent starting point for first time quad riders. Ideal for children six years of age and older, the Outlaw 50 is outfitted with a parent adjustable speed limiter, Polaris Variable Transmission (PVT), and a carbureted 49cc four-stroke, single cylinder engine. Relatively lightweight and compact in size, the Outlaw 50 is easily transportable in the back of a pickup truck or even most SUVs. The mini quad comes with a safety flag, helmet, and instructional DVD. With its smooth power and easy to use controls it won't take long before your child is pitching it around berms and jumping the neighborhood kids.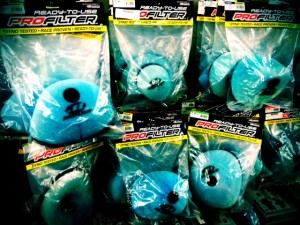 Maxima ProFilter RTU Air Filter
One of the quickest and easiest ways for a motorcycle, ATV or UTV rider to get more power out of their machine is to stuff more air into the combustion chamber. How can they do that? With a freer flowing air filter. Give the dirt bike rider on your Christmas list a high-flow air liter like the [mageProductLink sku="353-1500" title=""]Maxima ProFilter RTU[/mageProductLink] and they'll be impressed with your knowledge of internally combustible engines. Don't fret, Maxima also offers UTV air filters and ATV air filters as well, so pretty much all your motorsports enthusiasts are covered.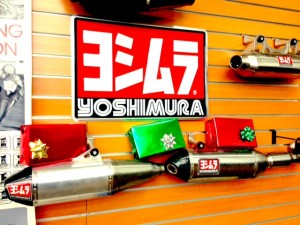 Yoshimura Exhaust
The yang to the air filter's yin, a high performance exhaust like those from Yoshimura is often the second step to achieving maximum horsepower and torque from and engine-without increasing displacement or modifying internal components. For most applications a Yoshimura exhaust is a simple bolt-on process that requires a few hand tools and can be performed by the average garage mechanic. Yoshimura has been one of the top names in dirt bike, street bike, ATV and UTV exhausts for years. Yoshimura covers the gamut of exhaust systems by offering complete ATV and UTV exhaust systems, inserts/end caps, slip-ons for dirt bikes, as well as street bike mufflers to fit the most popular motorcycles, ATVs, and UTVs from all the major manufacturers.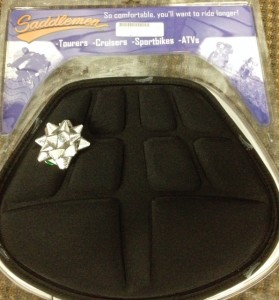 Saddlemen Tech Memory Foam Large Gel Seat Pad
If you've got a cruiser motorcycle rider you're shopping for they'd be pretty happy with one of these [mageProductLink sku="356-0810-0521" title=""]Saddlemen Tech Memory Foam Gel Seat Pads[/mageProductLink]. The pad rests over the top of the motorcycle seat and at the heart of the seat pad is a combination of high-quality memory foam and gel technology borrowed from the medical industry. The seat pad features a 3-D molded process that conforms quickly and comfortably to the rider's anatomy for long distance comfort. With several sizes available to fit a variety of cruiser motorcycle seats the SaddleGel Pad evenly distributes weight to absorb and eliminate pressure at the hips and tailbone and features exclusive air canals for increased cooling and breathability. But wait, there's more! These gel pads aren't just for motorcycles they can be used on ATV seats, UTV seats, at the office, or even at a baseball game. Basically they are light and compact enough that they can travel nearly anywhere to help ease the pressures of long periods of sitting-so they could make a great gift for just about anyone.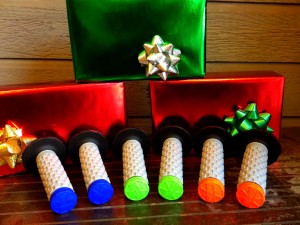 Pro Taper Pillow MX Grips
Even if you know nothing about dirt bikes or ATVs, understand this: they all use hand grips. These [mageProductLink sku="302-4851" title=""]Pro Taper Pillow MX Grips[/mageProductLink] from Pro Taper feature vibrasonix pillow top design which helps reduce vibration and cushions impact. The tacky gel like surface in the raised mini pillows provides extra grip which is ideal for off-road riders, while the ANTI-Rip Tip at the end of the grip uses a denser compound to increase life of the grip and prevent the grip end from ripping in accidents or drops. They are available in a variety of colors as both dirt bike grips as well as ATV grips.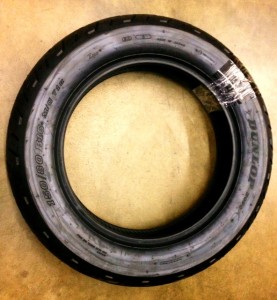 Dunlop D404 Rear Tire
A person isn't going to go too far if their motorcycle tires are shot. [mageProductLink sku="331-0511" title=""]The Dunlop D404[/mageProductLink] is a great tire as it provides long tread life and good handling characteristics. It's a suitable replacement for most cruiser applications and is even the OEM tire used on many motorcycles. If you're a newbie when it comes to motorcycle tire shopping, keep this in mind, typically a motorcycle will go through two rear tires to one front tire. So if you're thinking about getting someone a motorcycle tire for Christmas, chances are they could probably use a rear tire. If you're not sure about the size, the best thing to do (if possible) is slip into the garage or wherever the motorcycle is stored and snap a picture of the sidewall of the entire tire (you may need to roll the bike forward or backward and it may take 2-3 photos to get all the info). With a properly lit and sharp image you should have all the info necessary to determine the size, brand, and type of tire to ensure a proper purchase.