Giving The Gift Of Gift Cards
Chaparral Motorsports
|
December 16, 2013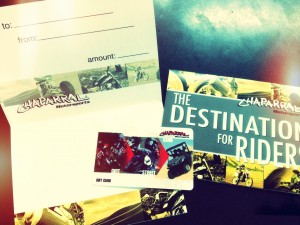 It never fails. No matter how well you plan or how detailed of a Christmas list you make, there always seems to be one person on your list you either completely forget about or just can't come up with a good gift idea. While Christmas is a holiday filled with joy and excitement, the gift shopping leading up to December 25th can be stressful as you try to figure exactly what everyone on your list (or everyone who is supposed to be on your list) wants or needs. But then even when you think you have your list sorted out other minor factors such as sizing, colors, and finding the best price can make your decision even more difficult. These extraneous difficulties can definitely come into play when shopping for motorcycle, ATV, and UTV enthusiasts. You may want to buy the moto head in your life some new dirt bike parts but then you run into the issue of possibly not knowing the correct year, make, or model for proper fitment. Or maybe you don't know anything about motorcycle parts and accessories or the brands associated with them, so walking into a massive retailer like Chaparral Motorsports can be a bit overwhelming.

What if there was a simple solution? A quick way to give a meaningful gift to those that are hard to shop for, or an easy way to take the guess work out of questions like: Is this the right size? Will they like this color? What part or accessory will fit their motorcycle? Can I find it cheaper somewhere else? There is a simple solution, buy a gift card. Like they say, good things come in small packages and what better package is there to receive than the ability to choose your own gift.

These days pretty much everyone offers gift cards from major retailers all the way down to specialty shops, so it makes it easy to find the right card for just about everyone in your life. Sure you can give cash, but cash is cold, impersonal, and dirty (studies have shown much of the cash we handle is teeming with germs and bacteria which can cause infections). Some may argue that gift cards are as impersonal as cash but that's not true. If the person you are shopping for is a motorcycle rider, giving a Chaparral gift card shows the recipient that you pay attention to their passion and interest in motorcycles and that you put some thought and effort into their gift.

Another benefit of a gift card is that they are easy to transport. If you are going to be traveling this holiday, hauling around a ton of gifts from place to place can be a real hassle. You could stuff a dozen gift cards into your back pocket and they wouldn't take up any more space than your cell phone or wallet. Gift cards are easy to transport, don't take up a lot of space in your car, and you don't have to start a workout routine just to carry them from one place to the next.

Gift cards make great last minute presents. If you accidentally left someone off your list and didn't realize it until the last minute, picking up a gift card makes for a quick and convenient shopping experience. You also don't have to stress if it's in stock or not.

Gift cards aren't susceptible to sizing. With a gift card you don't have to worry if the recipient will have to return your gift because it doesn't fit or it's the wrong color. You also don't have to shop around for the best price. With a gift card you pay whatever amount you want to pay. For example, Chaparral Motorsports offers gift cards ranging anywhere from $25 to $500. So if you want to spend exactly $44 on someone because that's your lucky number you can do that.

A gift card is a smart choice because often times it will encourage a person to purchase an item they might not have normally bought for themselves. Or maybe they had been saving up money to purchase a specific UTV part, and your gift card happened to put them in a position where they finally had enough money to make the purchase.

With a gift card the recipient can easily store it in their wallet or purse and always have it on hand to utilize as needed or whenever they visit the establishment. Unlike exchanging a sweatshirt that doesn't fit, the recipient doesn't have to worry about making sure they have the receipt in order to get the full amount or not get hassled when returning the gift. A gift card is ready to be used whenever the owner is ready to spend.

As a massive brick and mortar and online retailer, when it comes to motorcycles and ATVs/UTVs there are many benefits to choosing a gift card from Chaparral Motorsports. The most important benefit is, with thousands of parts, accessories, tires, apparel, and riding gear to choose from, there's plenty of items that would appeal to motorcycle, ATV, and UTV riders. Here are a few other reasons why a [mageProductLink sku="mo-giftcard" title=""]Chaparral Motorsports gift card[/mageProductLink] makes the perfect gift:

They have no expiration date. No matter how much balance you put on the card the full amount will always be available. There are no associated fees or monthly costs that will deplete the balance. So you don't have to worry about your money going to waste if the recipient doesn't exhaust the balance right away.

Gift cards are available from $25 to $500. You can custom tailor the amount to suit your budget or the recipient's needs.

Gift cards are shipped within one business day using the shipping method you choose (standard shipping rates apply to gift cards). Gift cards over $100 ship for free within the continental 48 US states.

Gift cards purchased online are available for use through the Chaparral call center, online store, and in Chaparral Motorsports' retail store.

A gift card can be purchased from one address and shipped to another address. If you live across the country and won't be spending Christmas with your family or friends, you can still purchase gift cards for them over the phone or online and have the cards shipped to wherever they need to go.

The recipient can always keep tabs of their balance by calling the 800 number on the back.