Fly Racing Trekker Helmet Offers A Unique Type Of Protection
Chaparral Motorsports
|
December 17, 2013
[mageProductLink sku="132-73-7000" title=""]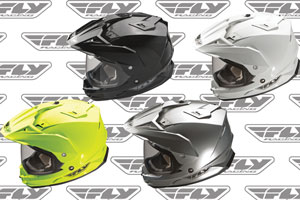 [/mageProductLink]Getting behind the wheel of an ATV requires a unique blend of knowledge - as well as some specific riding gear. In fact, all kinds of off-roading calls for specialty equipment, which is where top-of-the-line products like the Trekker Helmet from Fly Racing come into play. This full-face helmet boasts a variety of features that make it ideal for use when riding an ATV or a dirt bike.

The [mageProductLink sku="132-73-7000" title="Fly Racing Trekker Full Face Helmet"]Fly Racing Trekker Full-Face Helmet[/mageProductLink] has an innovate, aggressive design that is perfect for racing situations. Its exterior shell is made from an advanced poly alloy, which fuses intense strength with a durable, lightweight style. On the interior, you'll find dual-density expanded polystyrene, which lines the helmet. This material spreads out the impact absorption zone, thereby reducing the shock of any impact. This can be tremendously important in the event of a crash or accident, and it is certainly something riders will want to consider.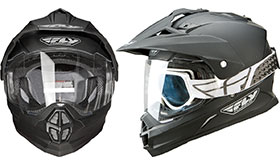 Other features that enhance this helmet include a new visor shape, which lets the user wear goggles regardless of whether the visor is open or closed. There are also 16 vents situated around the helmet, allowing for optimal intake and exhaust and excellent airflow. Several adjustable vents also keep areas like the mouthpiece and brow cool. Additional extras include removable cheek pads and comfort liner.

Ultimately, this Trekker Helmet provides great protection and comfort for riders in a variety of situations. Whether you're looking for something that will allow you to see what competitors are doing during a dirt bike race, need the comfort that goes along with extended use for an afternoon of ATV riding, or want to maximize your time on trails by forgoing the need to switch from street to off-road gear; this full-face option can bring you exactly what you're looking for.