Buyer's Guide: Shoei Motorcycle Helmets
Chaparral Motorsports
|
December 16, 2013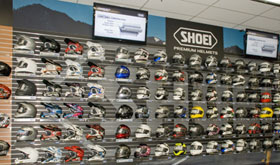 Shoei
has been producing high-quality motorcycle helmets since 1959. Much of the technology and designs have changed since then, but the tradition Shoei built remains strong. Today, the brand produces some of the most impressive headgear for any fan of motorsports or casual riding.

Motocross Helmets
[mageProductLink sku="375-0145-8201-03" title=""]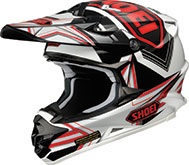 [/mageProductLink]Anyone who takes part in motocross knows that dangers can pop up at any time. To protect from these obstacles, the right full-face helmet is necessary. Designed to be aerodynamic, Shoei's dirt bike helmets are ideal for racing. They also come with features like a dual-layer EPS liner, which cools the face while absorbing impact, as well as a quick-release system for safety precautions. Using the latest advancements, Shoei has created helmets that won't drag riders down but also boast all the protection they need.

Street Bike Helmets
[mageProductLink sku="375-0109-0105-03" title=""]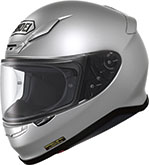 [/mageProductLink]Dirt bike helmets may be specifically designed for action off the roads, but Shoei also provides products for those who stay on the streets. These full-face helmets combine state-of-the-art technology with tough materials and comfort. The variable ventilation systems ensure that riders are always at the right temperature, while a breath guard and chin curtain are ideal for a snug fit. Also, they will prevent fogging, loud noise or discomfort. Interior liners add removable extra padding, while the exterior construction can absorb impacts safely.

Shoei also produces dual-sport helmets that can be used for street riding or off-roading.

Scooter Helmets
[mageProductLink sku="375-0130-0105-03" title=""]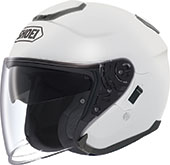 [/mageProductLink]Scooter riders also need some kind of headgear to keep them safe on the roads. Shoei offers a variety of helmets specifically designed for this activity, many of which feature aerodynamic shapes, a top-notch ventilation system, comfortable interior liners, flip-up chin bars and face shields with excellent visibility. Shoei creates scooter gear that is lightweight and available in a variety of sizes, colors and patterns, making it easy for any rider to find the protection that fits their style.