Christmas Buyer's Guide: Gift Ideas For Less Than $25
Chaparral Motorsports
|
December 12, 2013
When it comes to Christmas shopping everyone tackles the task differently. Some people set out a specific budget as to how much they want to spend per person or for the whole holiday, while others just let the plastic and cash fly at the register. No matter if you're shopping for a child, your boyfriend, wife, or riding buddy, below you will find an assortment of items geared specifically to motorcycle, ATV, and UTV enthusiasts that should hopefully give you some gift ideas for the gearheads in your life.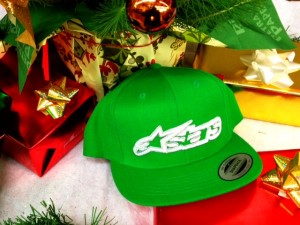 [mageProductLink sku="020-1023-85096-x" title=""]Alpinestars Criterion Snapback Hat[/mageProductLink]

$15.97

Any rider will tell you one of the first things they do once they pull off their helmet is reach for a hat. Nobody likes helmet hair and this Alpinestars Criterion Snapback Hat is the perfect cure. As the saying goes, "what's old is new again," and that's exactly the case with snapback hats. Not that they went anywhere. Like the mesh trucker caps, the snapback have always been around, it just seems there's been a move away from the fitted cap back to the snapback. Versatile in fitment, this Alpinestars snapback is the ideal gift because it fits a wide range of head sizes from the small peanut head to the oversized know-it-all. Aside from a wide range of adjustability, the flat bill means the new owner won't have to fuss or fight with a rounded or tweaked bill.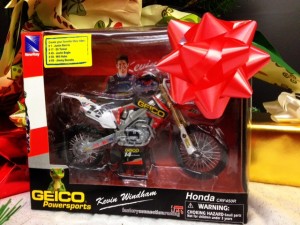 [mageProductLink sku="315-57563" title=""]New Ray Toys Geico Powersports Kevin Windham 2012 1:12 Motorcycle Replica[/mageProductLink]

$23.99

If the name of this toy doesn't tire a kid out, all the fun they'll have imagining they're K-Dub ripping around homemade dirt tracks in the backyard ought to wear them down. From the decals along the swingarm to the gold anodized forks, this bike is nearly identical to Kevin's 2012 Geico Powersports Honda-only it's 1/12th the size and doesn't produce any torque or horsepower. Hot Wheels are fun and all but most kids would rather build up mini dirt jumps for this replica Honda to hit rather than push around a boring Scion XB. Not only is this a great gift for the little ones but older riders might enjoy it as well, especially if they collect memorabilia. Memorabilia is big business, just think of the joy you could bring to a Kevin Windham fan if you were to get this signed by the moto star himself.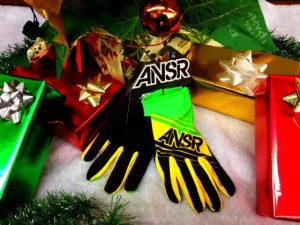 [mageProductLink sku="345-8460" title=""]Answer Racing Syncron Gloves[/mageProductLink]

$17.99

Gloves are always a smart choice for any motorcycle rider because just like riding boots they take a lot of abuse and therefore can get worn out pretty quickly-especially when it comes to dirt bike gloves. Most riders typically have a couple pairs of gloves they regularly use. So as long as you know what size the rider wears, giving a set of gloves can make you a Christmas star. And by giving these Answer Racing gloves, the recipient will know you're up with the latest style and trends as these are part of Answer's brand new 2014 Syncron line. Made of high quality materials for long lasting comfort and quality, these motocross gloves feature a synthetic leather palm with light padding to help reduce vibration through the handlebars but yet still provide a firm grip. The expandable cuff keeps the glove comfortable around the wrist area and the thermoplastic rubber strap provides secure closure. Riders will greatly appreciate the pre-curved shape which helps eliminate bunching that could cause blistering.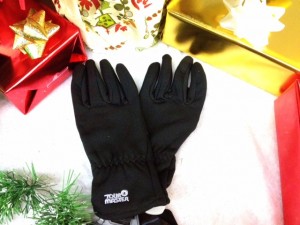 [mageProductLink sku="03-83320" title=""]Tour Master Polar Fleece Glove Liner[/mageProductLink]

$21.99

Yet another motorcycle glove option, this one however is geared towards the street/cruiser rider and is more of a seasonal type glove. Ask any cold weather enthusiast what's the best way to stay warm and they'll usually answer with one word "layers". Layers not only help trap heat and keep it close to your body, they also make it easier to cool off when things get too hot. These Polar Fleece Glove Liners from Tour Master are thin enough to fit under most regular riding gloves and aren't too restrictive that they'll hinder movement. The soft fleece material will help keep hands and digits warm on those frigid morning rides.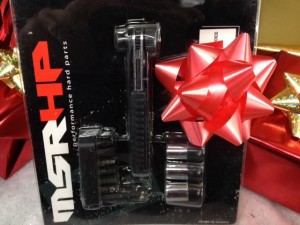 [mageProductLink sku="334-2103" title=""]MSR Racing Multi-Tool Kit[/mageProductLink]

$22.99

So you want to get that moto head in your life something useful and practical that you know they'll use, like a tool of some sort but you don't know anything about tools. The MSR Racing Multi-Tool Kit is a gift that even grandma can give and know it will be very handy and get a lot of use. Super compact (the entire contents could fit into one of those soft/lens cleaner pouches you get with a pair of new sunglasses) the kit comes with a slim yet durable two-way speed ratchet, 8, 10, and 12mm six-point sockets, 4, 5, and 6mm Allen head bits, as well as #2 Philips and #2 flat head screw drive bits. Perfect for packing along on the trials or zip-tying to a dirt bike, the rubber handle makes for a good solid grip while the assortment of bits allow for tackling a variety of loose nuts, bolts, or other problems.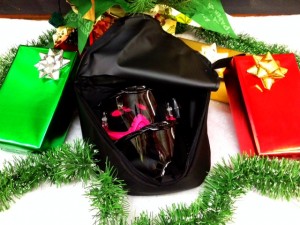 [mageProductLink sku="125-1028" title=""]Ocelot Deluxe Goggle Case[/mageProductLink]

$9.97

Just because moto goggles take a ton of abuse while playing out in the sand or on the trails, does that mean they have to be subjected to possible lens scratches or worse, breaking, when traveling to and from riding destinations. A goggle bag such as this one from Ocelot is the perfect solution to safely storing/transporting goggles when not in use. Made of 1000 denier Cordura Nylon and secured with a heavy duty zipper, the bag will hold up to the extremes that dirt bike and ATV/UTV enthusiasts put their gear through. The bag is large enough to carry up to three goggles and even has a pouch for storing spare lenses. The padded inner lining will keep goggles protected and the exterior carry strap makes it easy to grab and go when hands are full with other gear like a helmet, boots, and riding pants.

*Goggles not included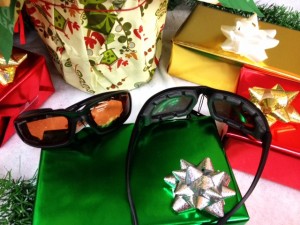 [mageProductLink sku="350-9273" title=""]Bobster Foamerz II Sunglasses[/mageProductLink]

$17.99

When it comes to motorcycling, eye protection should be at the top of everyone's list. Dust, pelting rain, pebbles, and other debris getting into a rider's eye can turn their wheeling fun from 10 to 0 in an instant. A scratched eye or worse something actually penetrating the eye can be serious business, especially if it occurs while riding/driving at speed. Goggles are great for off-roading, but when it comes to street riding not everyone likes the look or feel of goggles. These Foamersz II Sunglasses from Bobster are great because they offer the benefits of goggles but in sunglasses form. The wraparound design of these sunglasses provides extra protection on the sides while the foam lining inside the glasses fits snugly against the face to help prevent debris from getting to the eyes. The closed cell memory foam has vents to allow for adequate air circulation and the lenses themselves are made from polycarbonate with anti-fog features for durability and clear visibility.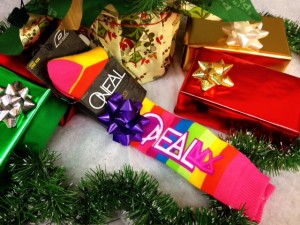 [mageProductLink sku="023-0356-709" title=""]O'Neal Racing Pro MX Rainbow Women's Sock[/mageProductLink]

$11.99

Oooooh!!!...Double rainbow!!!...What does it mean!!?? Is your wife, girlfriend, or female BFF a dirt bike rider? Help her show off her inner Rainbow Brite while blasting around the track with O'Neal's Pro MX Rainbow socks. The moto socks not only look flashy but are actually functional as well. Featuring a knee-high length, the socks are made of moisture wicking and high-density materials to keep feet dry and comfortable. The thick knit heels and soles help with shock absorption, while the ribbed arch and ankle provide for a secure fit.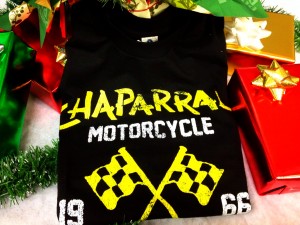 Chaparral Moto Club Tee

$19.99

Everyone always needs a new tee shirt and it just so happens that this one from Chaparral Motorsports comes in every motorcycle rider's favorite tee-shirt color, black. It's an exclusive club and they take their motorcycling seriously, but what better way for a hard core rider to show pride for their favorite motorcycle shop than to rock the Chaparral Motorcycle Club tee shirt. This will be a big hit with anyone who is a fan of two wheels.