Chaparral Motorsports Launches Ugly Gear Contest
Chaparral Motorsports
|
December 6, 2013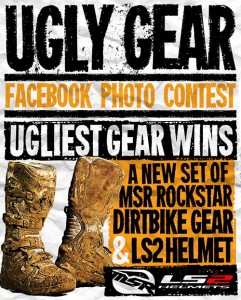 Chaparral Motorsports is offering a chance for riders to switch up their old, used, abused, or ugly motorcycle gear for some brand new equipment. The Facebook photo contest allows motorcycle and motorsports enthusiasts to submit pictures of their ugly or broken gear for a chance to win replacements from one of the world's biggest retailers.
As any rider knows, extensive use, rough conditions, and inclement weather can wreak havoc on motorcycle gear, especially over the course of a long season or an extended period of time. The end result is everything from torn clothing and shredded apparel to broken accessories and patched-up equipment. These ugly - but entertaining - items could be a rider's ticket to win, however, and only a single photo is needed to enter Chaparral's contest.

The contest is not only limited to run-down gear. Riders can also submit photos of their ugliest accessories and apparel for a chance to win. Anything from obscenely colored jackets to obnoxious patterns could put a rider in the running for a win, so fans of Chaparral Motorsports shouldn't be shy about sharing pictures of their ugly gear.

All participants have to do to enter the contest is go to the official Chaparral Motorsports Facebook page. Once they "like" the page, they can submit their photo for a chance to claim the title of "ugliest gear." Chaparral Motorsports will select the winner, who can then reap the reward they deserve - and desperately need. That's because the winner will receive new gear to replace their old options, giving the victor the opportunity to take advantage of new [mageProductLink sku="335-1708" title=""]MSR Rockstar[/mageProductLink] Motocross gear and selecting a new LS2 Helmet.

Recreational riders and racers alike can head to Chaparral's official Facebook page at www.facebook.com/pages/Chaparral-Motorsports/139023220932 to enter the contest and check out the latest news and deals from the motorcycle superstore.

About Chaparral Motorsports
With over 30 years in the motorsports industry, Chaparral Motorsports knows a thing or two about selling motorcycle gear, motorcycle tires and motorcycle parts. Value, lowest prices and trust are only a few qualities used to describe Chaparral Motorsports, but what you may not know is that we go the extra mile to offer a superior online shopping experience. When you shop with us, you get a secure and hassle-free experience, free shipping options and superior customer service.