Caselli Foundation Established
Chaparral Motorsports
|
December 6, 2013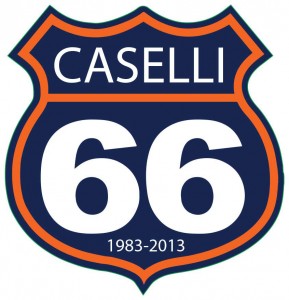 KTM
Motorsports and FMF Racing, LLC have worked together with the Caselli family to set up a foundation to honor Kurt Caselli, who passed away in a tragic motorcycle accident on November 15, 2013.

"My son, Kurt, loved to learn and he loved to race," commented Kurt's mother, Nancy Caselli. "He was inquisitive and investigative. I am hopeful that this foundation will initiate learning, inspire others and help raise the bar for increased rider safety. Kurt would be proud, as am I, to promote this foundation's effort to better protect current and future racers for years to come. Thank you to all for your support in his memory."

A portion of the Caselli Foundation money will go toward a scholarship for high school seniors. Caselli's sister, Carolyn, works as an English teacher at Corcoran High School, and she knows how important it is to encourage students to follow their dreams. "My brother Kurt had an amazing job doing what he loved. He inspired thousands of young riders to follow their dreams," stated Carolyn. "I believe, and I know Kurt would agree, that the beauty of living your dreams is not only in the courage to dream large, but also, and more importantly, in the learning, dedication, and hard work required for turning those dreams into reality. I am proud to create this scholarship encouraging the hard work it takes to live your dreams. In this way, Kurt's legacy will continue forward not just in the off-road community, but in the lives of all young believers."

People interested in donating money for the foundation can send money to:
KTM North America, Inc.
c/o: Caselli Foundation
38429 Innovation Court
Murrieta, CA 92563
The Caselli Foundation Chairman position will be held by Kurt's fiancée Sarah White. White has worked with Factory FMF/KTM Team Manager, Antti Kallonen, to also use proceeds from the Caselli Foundation to help fund new technology for increased rider safety in off-road racing competitions. "Any racing is dangerous but especially desert racing because of high-speeds and the long distance covered. It is harder to receive help right away since it's not a closed circuit format. We feel the Caselli Foundation would be a great opportunity to help find suitable safety equipment that can be used in any kind of racing in the US and across the world that can one day be compatible with all promoters and competitions," remarked Kallonen.

All proceeds from the Caselli Memorial Ride Day will be given to the Caselli Foundation. All proceeds from any of the Kurt Caselli memorial stickers or t-shirts sold through FMF will also be earmarked for the foundation.

More details on the official site for the foundation will be released once developed.

Source: KTM North America