Taddy Blazusiak Crowned AMA EnduroCross Champion At Las Vegas Finale
Chaparral Motorsports
|
November 27, 2013
[caption id="attachment_29606" align="alignright" width="300"]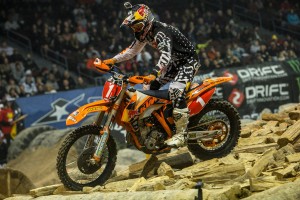 Taddy Blazusiak was crowned the AMA National EnduroCross Champion after the closest battle in the history of the sport - Photo: Drew Ruiz[/caption]

Red Bull KTM Factory rider Taddy Blazusiak was crowned the AMA National EnduroCross Champion after the closest battle in the history of the sport with fellow KTM rider, Factory FMF/KTM's Mike Brown.

The two KTM riders came into the final dirt bike round tied for the points lead. Each rider had earned the exact same finishes over the course of the season to show up at the finale with 130 points each.

Brown was placed in the first heat where he earned the holeshot and took the early lead. He went on to lead every lap of the race to take the heat win and the first transfer spot into the main event. Blazusiak took the holeshot in the second heat. He battled with Cody Webb for the lead for the first half of the heat before settling into second place for an easy transfer spot to the main.

Prior to the main event the thirteen riders had to line up to ride a hot lap to determine gate pick for the main show. Each rider performed one lap around the track to try and secure the fastest time for the best gate pick. Blazusiak and Brown were the last two to go. Blazusiak went first and turned a 57.721 to take the top spot from Cody Webb. Brown was the last rider to go and ended up turning a 57.750 to almost exactly match his teammate's time while continuing to give the audience an impressive performance.

[caption id="attachment_29605" align="alignleft" width="200"]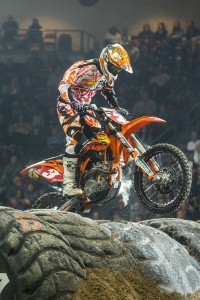 Mike Brown fought hard with his teammate for the championship - Photo: Drew Ruiz[/caption]

The two riders couldn't stay away from each other much longer and launched off the line of the main event in first and second position with Brown edging out Blazusiak for the holeshot. Brown led the first lap with Blazusiak in tow. As they neared the fire pit section, Brown made a mistake and Blazusiak ran into him. The rest of the pack crashed into them as well causing a huge pile up. Brown and Blazusiak had to wait for the others to get their bikes before they could get back on theirs and once they recovered they were side by side in the back of the pack.

The next five laps of the race would continue in that fashion. Once one rider made a mistake, the other would capitalize and move into the lead and then make a mistake of their own, allowing the other to catch back up. The crowd was on their feet cheering for the two KTM riders as they battled for the championship. "I've never been so far back in a race battling for a championship," Blazusiak commented. "I can't believe how we kept finding each other throughout the race. I don't think I breathed the entire twelve minutes."

After the halfway point, while battling with Blazusiak, Brown crashed hard in the water section. He lost approximately 10 seconds during that crash that allowed Blazusiak to get ahead. From there Blazusiak picked up one more position and was able to finish the race in 5th place ahead of Brown's 9th place finish to secure the championship.

"That was one of the most exciting races I have ever had in my life," stated Blazusiak. "It was so much fun to battle with Brown this year and I am excited we were both able to keep it clean while we battled for the championship," commented Blazusiak.

Blazusiak's championship marks his fifth consecutive EnduroCross title. He continues to be the most dominant rider in the EnduroCross Series and will return to defend his title once more in 2014.

2013 EnduroCross Las Vegas Finale Image Gallery
(Click for full size images)
Overall Results


Cody Webb

Cory Graffunder

Kyle Redmond - KTM

Colton Haaker

Taddy Blazusiak - KTM

Geoff Aaron - KTM

Taylor Robert

Gary Sutherlin - KTM

Mike Brown - KTM

Destry Abbott

David Knight

Eric Rhoten - KTM

Jack Field

Source: KTM North America