Kawasaki J Concept Bike: Cruiser And Sport Bike In One
Chaparral Motorsports
|
November 27, 2013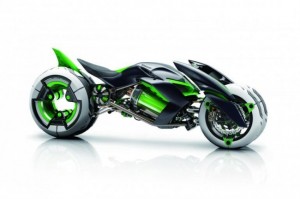 Ever wish you had two motorcycles, a cruiser and a sleek sport bike? Well, based on this concept motorcycle revealed by Kawasaki at the Tokyo Motor Show last week, their designers seem to have the save desire.

Dubbed the Kawasaki J, the concept bike is pretty wild as it can transform from either a streamlined, tucked position for those times when you want to dial up the speed and hug the corners or move to a more upright cruising position when you just want to kick back and admire the scenery.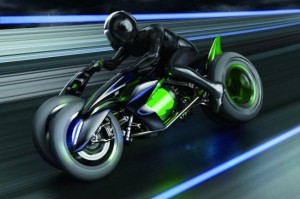 The bike is actually kind of hard to categorize as either a trike or motorcycle, because not only can the riding position change, but it actually has three wheels; two wheels up front and one in the back like a Can-Am Spyder. When put into Sport Mode, the two front wheels are stretched out and brought in close together almost like one wheel for better aerodynamics.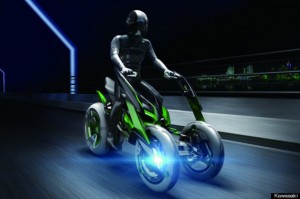 Then when switched to Comfort Mode the wheels pull back toward the rider a little bit and spread apart with the handlebars rising up to a higher position so the rider can sit more perpendicular to the ground.

Actually the bike doesn't have traditional motorcycle handlebars, instead it's shown with levers and grips which are used to control each wheel and operate the electric motor powered machine. And while the J is a pretty unique design, it doesn't look too far off from things we've seen in the past, in particular the Tron Light Cycle and Transformers. The designers of the J must have been eighties babies.