Buyer's Guide: Side-By-Side Parts To Improve A Four-Wheeler
Chaparral Motorsports
|
November 27, 2013
|
Last Updated: May 1, 2020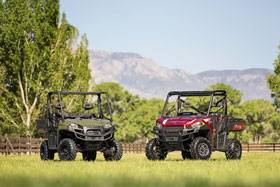 It's not uncommon to want to update a side-by-side vehicle, and there are several options for modifications that may prove to be a worthy investment for riders. Although many modern models come equipped with excellent features and state-of-the-art technologies, owners of a utility vehicle may want to upgrade certain aspects to better suit their riding style and improve durability or capabilities.

Here are five areas where you can make modifications to improve a vehicle:

Roof
[mageProductLink sku="2878649" title=""]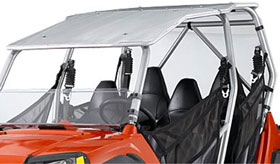 [/mageProductLink]To start with your modifications, you may want to look to the UTV roof. Roof racks can add storage for ATV gear and other equipment, such as a fire extinguisher holder or a drink tube for cans of your favorite refreshment. Full-shade covers are also available to provide protection from the sun while offering extra storage. Fabric roofs provide another option for riders. These lightweight accessories repel water and harmful rays to guard against the elements.

Doors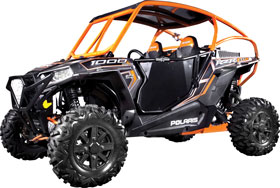 The doors can also be enhanced for maximum capabilities. Soft door kits allow you to keep out the elements and reduce exposure of the interior without weighing down the machine. Look for a product with an upper half that can be quickly removed or unzipped for open-air driving. For more extreme circumstances, you may want to consider installing metal suicide doors. Usually made from aluminum or another low-weight metal, these options offer additional protection from obstacles to go along with easy mounting. Not only do they look cool, but they also provide a safe and reliable way of protecting riders.

Winch
[mageProductLink sku="2876446" title=""]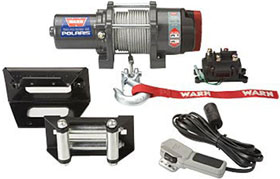 [/mageProductLink]Winches are primarily used on the front bumper of off-road vehicles as a way to load or tow them when necessary. This is an essential part to have if you plan on taking your utility vehicle around to different locations and recovering it from rough situations, so having the right winch and equipment is very important. You should be looking for an option that is sealed, to protect the inner machinery from the elements, and has an adequate amount of wire rope for towing purposes.

In many instances, you will also need a winch mounting system for an ATV or UTV. This requires diligence, as kits are made to work with certain brands or models. Such systems need to be durable and secure, and a rider must find a product that fits the machine - and its weight - and can be installed easily.

5-Point Harness Belts
[mageProductLink sku="103-a115230" title=""]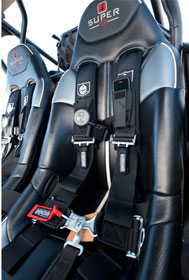 [/mageProductLink]Safety is of paramount importance when riding in a UTV, which is why a five-point harness belt is a good investment. These belts offer supreme comfort and security for all drivers and passengers. It fastens across your shoulders, chest and hips to prevent whiplash and keep all riders snugly tucked into their side-by-side machine. Extra padding relieves some of the pressure and discomfort that may arise, while additional storage like waterproof cellphone pockets lets you keep your possessions safe.

Lock And Ride Accessories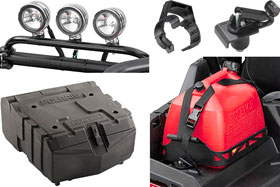 Riders who use the Polaris RZR XP or other Polaris vehicles can take advantage of the Pure Polaris Lock and Ride accessories. This collection boasts a number of top-notch UTV accessories that you can use to upgrade your ride. Roof racks and cargo boxes offer storage, but you can also choose from tire holders, flag mounts, fuel can mounts, light bars and more.

You may want to pick one or just a few of the gear offered from the Lock and Ride accessories, but each has its own set of advantages. When you want to improve visibility and increase your time off-roading, light bars may be the right call. These supplemental lights can be installed in minutes, allowing you to adapt to changing conditions with ease. Similarly, accessory clamps or accessory racks make it simple to store and install gear that you may need while riding.