Weekend Warrior: 2014 Can-Am Outlander
Chaparral Motorsports
|
November 24, 2013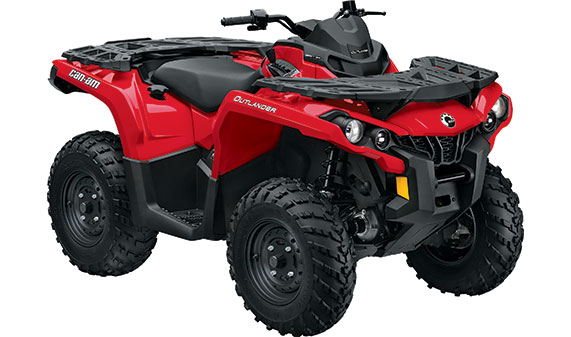 2014 Can-Am Outlander: Offers Options & Durability
Can-Am
has built a name for itself as one of the brands for recreational use. With plenty of different options for 4x4s and other utility vehicles, the manufacturer has become a favorite of many avid riders. It should continue to grow this reputation with the addition of the 2014 Can-Am Outlander. As a rugged machine that is more than ready to handle all types of terrain, this ATV is posed to make one of the biggest splashes in the motorsports world this year.

Engine And Chassis
[caption id="attachment_29511" align="alignright" width="300"]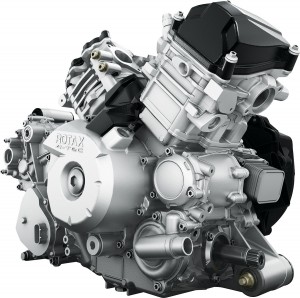 2014 Can-Am Outlander 800R - Engine[/caption]

There are three different engine options that you can choose from when selecting a 2014 Can-Am Outlander. The first, the 2014 Can-Am Outlander 500, is a V-Twin, liquid-cooled, eight-valve engine with a displacement of 500 cc. Alternatively, there is also a similar unit, the Outlander 650, with a displacement of 650 cc and a third option, the Outlander 800R, with a displacement of 800 cc. All of the motors come with a CVT transmission that is capable of operating in high, low, park, neutral and reverse.

It all operates on a Surrounding Spar Technology G2 frame. Made from welded steel, this frame was designed with efficiency in mind, which is why riders may notice a slightly new style that prioritizes durability and structural integrity. Those changes have led to improved steering and braking, and with the help of 9 inches of suspension travel, riders will be able to take part in more aggressive driving without sacrificing comfort or maneuverability.

Standing Out With The Outlander
[caption id="attachment_29512" align="alignright" width="300"]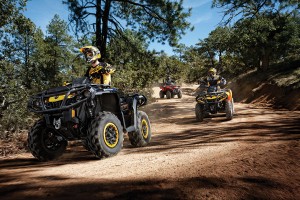 2014 Can-Am Outlander Family[/caption]

While the engine options and framework provide an impressive base for this Can-Am ATV, it's the smaller touches and details of the Can-Am Outlander that cause the machine to stand out. For starters, it's got an easy setup for maintenance, which makes caring for the vehicle simple. The battery has been relocated to under the seat, along with a few other integral parts, to further protect it from the elements without making it impossible to get to.

The 2014 Can-Am Outlander also comes with plenty of extra features that are sure to please. A large storage box offers waterproof protection for 5.7-gallons worth of space and is kept beneath a rear cargo rack. That makes it easy to get to your gear even when the rack is loaded with other equipment or a heavy haul. Add restyled headlights, a cleaner gauge display and a top-of-the-line security system, and you've got a machine that is ready to become a leader in its class.

2014 Can-Am Outlander Image Gallery
(Click for full size images)