Thanksgiving For The Motorsports Enthusiast: 10 Ways To Make Your Turkey Day More Motor Friendly
Chaparral Motorsports
|
November 22, 2013
Thanksgiving for the Motorsports Enthusiast:

10 Ways to Make your Turkey Day more Motor Friendly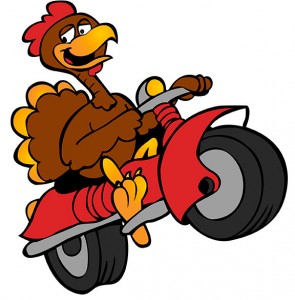 Thanksgiving marks the start of the holiday season, a time for family, friends, food, and fun. But it can also be stressful dealing with crowds at the shopping centers, traveling, cooking, and handling relatives and house guests. One way to help relieve stress is to make sure you're in a comfortable environment and surrounded by things that are familiar to you and make you feel happy. For a online superstore enthusiast that means hitting your favorite dirt bike track, cruising some trails in your UTV/ATV, or hopping on your cruiser motorcycle and going for a putt on your favorite road. Unfortunately not everyone can slip away from family or friends during the holiday. For those stuck inside or unable to get a little seat time here's some ideas that could be incorporated into your Thanksgiving holiday to make it a little more fun and more ATV, UTV, and motorcycle enthusiast friendly.

Note: This article is mostly for entertainment purposes only and not meant to be taken literally.



Whatever your plans are for the Thanksgiving holiday, hopefully you get to eat good food, have some laughs, and are able to get out and enjoy some seat time on your favorite roads or trails.