Buyer's Guide To Oakley Goggles
Chaparral Motorsports
|
November 22, 2013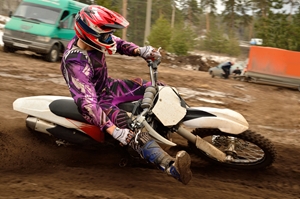 If you're shopping for motorcycle goggles, you'll be hard-pressed to find any brand that provides better products than Oakley. The iconic manufacturer has established itself as one of the best sources for protective gear in the motorsports world, and all of its options should be carefully considered by riders looking for equipment they can invest in.

Full Range Of Dirt Bike Goggles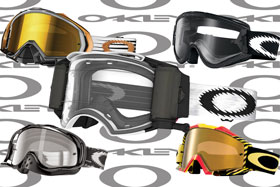 Covering everyone from men and women to kids, Oakley boasts some of the top options for eye protection for any type of motorsports activity. The brand has goggles designed to keep out sand, debris and other elements, as well as some pairs that are capable of being worn over other glasses. Even the standard motocross goggles comes with high-quality and a reputation for excellence, with many pairs of goggles featuring unique colors and designs, a comfortable fit, adjustable straps and excellent sight​ lines.

Most of the goggles have been optimized for the best, most efficient use. Ventilation prevents fogging and keeps your face cool, while specific materials wick away sweat and water. Add in UV protection, impact resistance and scratch resistant qualities, and you've got a pair of goggles that is ready to handle any type of riding.

Goggle Accessories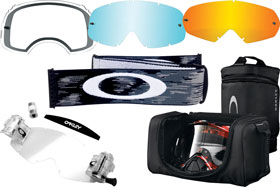 Oakley also offers a variety of accessories to help care for and extend the life of your goggles. Replacement lenses allow you to substitute tinted or clear shields depending on the situation or the current status of your goggles. If that's not enough, Roll-Off Accessory Kits can help you clear your line of vision quickly and efficiently, ensuring you'll be able to improve your sight when you need it most. Cases, straps and attachable masks are all also available from Oakley, allowing you to customize your equipment to fit your needs.