Polaris Introduces The Sportsman WV850 H.O. ATV
Chaparral Motorsports
|
November 19, 2013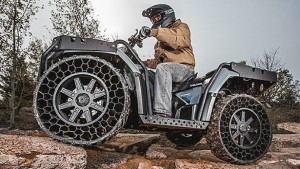 Polaris is taking ruggedness to a whole new level with the recent announcement that it will soon be releasing non-pneumatic tires on its Sportsman WV850 H.O. ATV. Based off the company's military spec MV850 ATV, the civilian Sportsman WV850 H.O. will not only forgo standard ATV tires for a set of air-less tires, but the machine will also feature a steel exoskeleton, military-grade single-speed transmission, 77hp engine, and power-steering.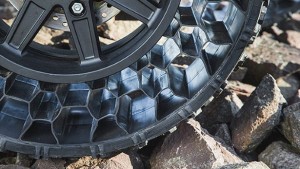 The Polaris Sportsman WV850 H.O. is bound to be a hit with the doomsday crowd and those that like to punish their equipment, as it's meant to take a beating and keep on charging along. According to Polaris, they have done quite a bit of testing on the Terrain Armor tires and have found them to be able to withstand a hit from a 50-caliber round or take on a puncture the size of a 3-inch railroad spike and still hum along for several hundred miles. The polymeric webbing of the tires deforms overs rocks, branches, and rough terrain to provide grip like a normal tire and is wrapped in a treaded carcass for traction. Polaris says it plans to offer the tires for other vehicles down the line.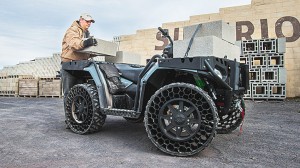 Available in very limited quantities starting in December and with a starting price tag of $14,999 the Polaris ATV is loaded with other features like steel racks capable of carrying 600 pounds of cargo, a 1,500-pound towing capacity, upgraded shocks, a 3,500-pound winch, and a 11.75-gallon gas tank. With its sinister post-apocalyptic stance, heavy-duty components, and armor like exterior it looks like this thing could handle just about any situation, but we'll pass on being target practice for 50-cal rounds.