The Dirt Bike Guy: 2014 Kawasaki KLX110L
Chaparral Motorsports
|
November 9, 2013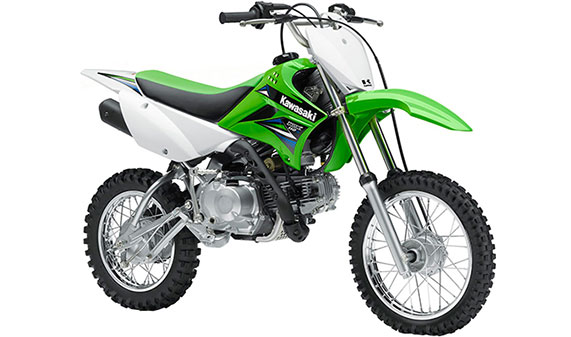 2014 Kawasaki KLX110L: Less Is More
A familiar adage claims that "less is more," and that seems to be the case with the Kawasaki KLX110L. The dirt bike was created under a back-to-basics mindset, but that is not to say it doesn't boast an array of top-notch extras that make it a viable option for many riders. In fact, the Kawasaki dirt bike offers substantial power and a few key features that should pique the interest of off-road adventurers.

Engine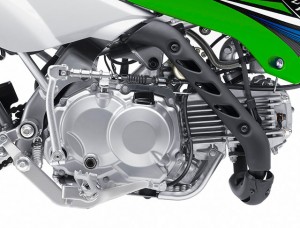 At the center of the machine is an air-cooled, four-stroke engine with a displacement of 111 cc. A four-speed transmission helps control the power output, and while this gearbox can be easily handled by riders just beginning their off-road careers, it also has a manual clutch that many more experienced bikers will appreciate. Starting the machine is simple thanks to a push-button electronic system, but a kick-start is available as a backup, and you can instantly head to the trails with the help of the Kawasaki Automatic Compression Release. The KACR leaves one exhaust valve open for a quick and easy start that ensures you waste no time setting off on the bike.

Chassis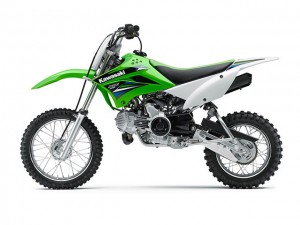 The frame of the 2014 Kawasaki KLX110L is designed to be an agile machine that is well suited for bigger, more experienced riders. Its seat height comes up to 28.7 inches, about 2 inches higher than the standard KLX110 model. This change allows more room for taller riders to get comfortable without straying from an ergonomic design. With a high-tensile steel frame, the Kawasaki bike can handle the load of a bigger rider, all the while maintaining the tradition of lightweight and agile machines that the manufacturer is known for.

Final Thoughts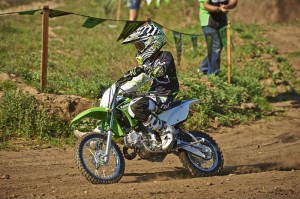 Despite the overall simplicity of the bike, it comes with a number of special features that enhance the final product. The lime green coloring and exterior design have been made to look like the race-ready models used by Kawasaki in formal motorsports races, and riders can even choose to have a motocross seat installed or have the handlebars optimized for pinpoint control.

Although the power output may be lower than similar Kawasaki models, the KLX110L provides a unique style and high level of comfort that are not often seen on these compact dirt bikes.

2014 Kawasaki KLX110L Image Gallery
(Click for full size images)