Electric 'Batpod' Sells On EBay
Chaparral Motorsports
|
November 5, 2013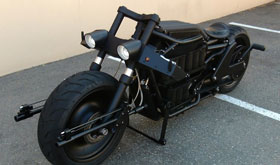 The Batmobile may be Batman's most famous ride, but a motorcycle ridden by the superhero would be a close second. While the original Batpod is not on the market, a custom-made version of the Caped Crusader's two-wheeled bike recently went up for sale on eBay.

A few things stand out about this homemade Batpod. For one, it's made from an electric motorcycle. According to Motorcycle.com, the motor is an AC-20 and runs with the help of a Curtis 1238-7501 motor controller. It can achieve 82 foot-pounds of torque and 65 horsepower, which is especially impressive considering the motorcycle has also been outfitted with a number of accessories that are reminiscent of the superhero. An inoperable flame thrower and weapons system were included on the exterior of the bike, but all of the gear needed to make it work was purposely left off the motorcycle.

At the heart of the bike is a 2002 Harley-Davidson base. Some of the parts have been removed to make room for other alterations, but the chassis is largely intact. It has only accumulated about 150 miles in its current state and is described as being in perfect condition.

The final bid for custom bike reached $16,600.