The Dirt Bike Guy: 2014 KTM 1190 Adventure R
Chaparral Motorsports
|
November 3, 2013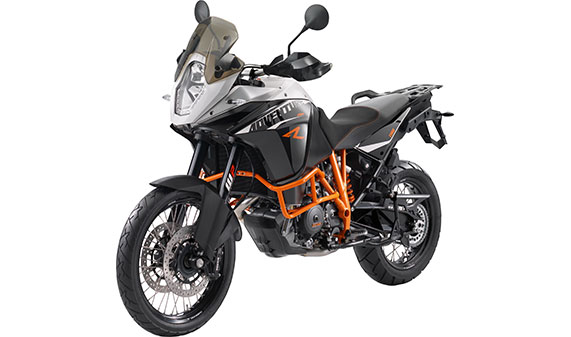 2014 KTM 1190 Adventure R: Leaves A Big Impression
KTM is one brand that isn't afraid to make big adjustments to take its motorcycles to the next level. That has historically been the case with the manufacturer's off-road options, and its latest dual-sport motorcycle was certainly made with this line of thinking in mind. The 2014 KTM 1190 Adventure R is a one-of-a-kind machine designed to fit in with the brand's tradition, and several of its newest qualities will set it apart from other dual-sport bikes.

Engine
[caption id="attachment_29314" align="alignright" width="300"]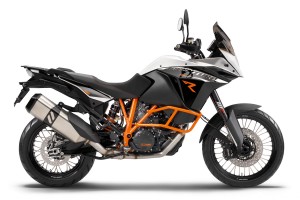 2014 KTM 1190 Adventure R - Photo: H. Mitterbauer[/caption]

The KTM 1190 Adventure R is propelled by a liquid-cooled, four-valve, V-Twin engine. Marked by an impressive displacement of 1,195 cc, the bike certainly stands apart from its peers in the power department. It has increased its output to 150 horsepower and can achieve 91 foot-pounds of torque at a low rpm.

A six-speed transmission is utilized to manage the power output. These gears have been remodels to suit the wide range of situations you may encounter on the bike - for example, the first gear is significantly shorter than what is present on similar dual-sport motorcycles, making it perfectly suited for handling tight off-road trails. The slipper clutch also makes it easier to change gears and operate the machine without stalling.

Chassis
[caption id="attachment_29315" align="alignright" width="300"]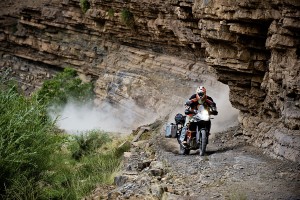 2014 KTM 1190 Adventure R - Photo: R. Schedl[/caption]

The frame of the 2014 KTM 1190 Adventure R is designed to provide top-of-the-line performance on any surface. This chassis was constructed around the new motor, so everything fits snugly and was created with ergonomics in mind. While it may be big, it still handles like a more compact dirt bike and is agile enough to go off-roading without a problem.

At 507 pounds, it's a heavy machine, but the increased weight is easily overlooked due to the power, controls and ease of handling, not to mention the comfort offered by its larger frame. This is also one of the biggest areas of improvement for the KTM motorcycle. Comfort is at a premium with this machine, with the seat repositioned to go along with an adjustable windscreen. It is a high seat designed for taller riders, but the adjustable nature of the handlebars and footpegs permits smaller riders to get comfortable as well.

Final Thoughts
[caption id="attachment_29316" align="alignright" width="300"]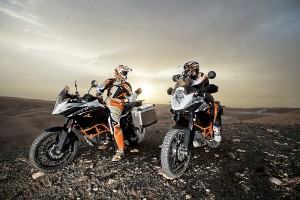 Photo: R. Schedl[/caption]

A new Motorcycle Traction Control system has been installed to allow the rider to customize the power output and wheel spin to certain situations, enhancing the performance of the bike in any given scenario. Anti-lock brakes, which have been improved to work at multiple lean angles, further the efficiency and safety of the machine.

With a balance of power, agility and function that will be tough for any manufacturer to top, the 2014 KTM 1190 Adventure R is already making a name for itself as a bike that gets you where the action is and powers you through your adventure. Fans of both off-road riding and cruising the highways will want to take a second look at this powerful machine.

2014 KTM 1190 Adventure R Image Gallery
(Click for full size images)