Carlos Checa Retires
Chaparral Motorsports
|
November 1, 2013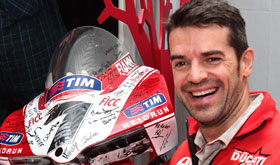 The motorsports world is saying goodbye to another legend. Carlos Checa, who won the World Superbike Championship just two years ago, is retiring at the age of 41. He recently sustained a hip injury at the round at Istanbul Park, and as such was unable to compete in the final event at Jerez, but he made sure to be present for one last farewell to the fans.

"This year I am celebrating 20 years of racing at a world championship level," Checa said. "I am extremely proud of this long sporting career, which has given me many special memories of all the teams I have worked with. ... My aim has always been to discover my limits and to be able to take a close look at myself in order to continue to learn, grow and become a better rider and a better person."

Checa leaves the racing world with a World Superbike Championship on his resume, along with more than 500 grand prix races, according to Cycle News. While he has remained competitive throughout his career, challenging for wins and titles each year, recent injury troubles have put the sport on the back burner. He may continue to have some role with Ducati, his long-time team, but that remains to be seen.