Norton Motorcycles Ready To Ship To The US
Chaparral Motorsports
|
October 31, 2013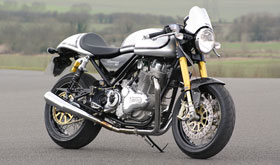 For years, Norton Motorcycles has been one of the biggest names in bikes in Europe. The British brand shirks traditional motorsports qualities in favor of a design that focuses on quality and road manners, which makes the machines popular for many riders.

Norton just started shipping motorcycles to Canada at the end of September, and a little more than a month later the company has begun shipping bikes to the U.S. According to Motorcycle.com, the brand is moving Commando 961 to American dealers - the first Norton bikes to be sent to the U.S. in more than 30 years.

This expansion was made possible by recent changes at Norton Motorcycle headquarters. The company moved into a 45,000-square-foot facility at Hasting House, located on the iconic grounds of the Donington Hall. More space for production meant the brand could increase its output, keeping up with the demands of riders from all over the world.

While the Norton motorcycles and gear are only available at a few select dealers around the country, the offerings should spread should the bikes become successful.