Weekend Warrior: 2014 Kawasaki Brute Force 300
Chaparral Motorsports
|
October 26, 2013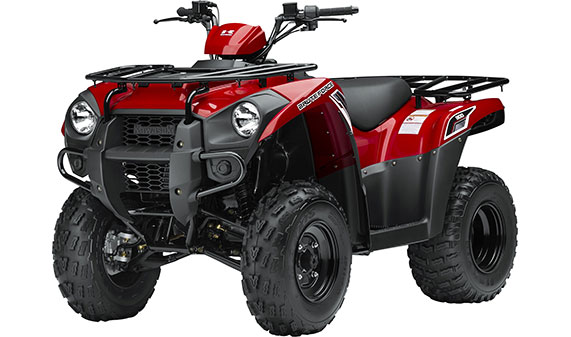 2014 Kawasaki Brute Force 300: Brute Force For Heavy Duty Work
When I strap on my riding gear and head outdoors I may use my ATVs for mostly recreational purposes, but that doesn't mean I can't appreciate a heavy duty work machine when I see one. It takes a strong utility vehicle to be able to meet the demands of a farm or similar situation, and for those motorists on the hunt for their next ATV, the Kawasaki Brute Force 300 may be worth a look.

Engine And Chassis - Power And Durability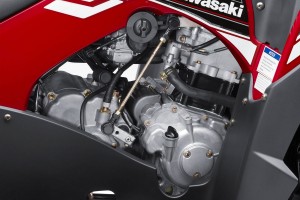 You can do a lot of chores with the help of the 2014 Kawasaki Brute Force 300 and its four-stroke engine. With a displacement of 271cc, the liquid-cooled motor provides more than 21 horsepower at 7,500 rpm. You also get solid torque from the machine, with about 16.4 foot-pounds at a relatively low 2,300 rpm. Riders can manage the engine with a two-speed transmission and reverse capabilities.

What really gets your attention is the Kawasaki's strong frame. It may not be too big or appear overpowering, but it packs a lot of punch in a smaller package. The double tubular steel chassis boasts a ground clearance of 6.1 inches and an overall height of 46.1 inches.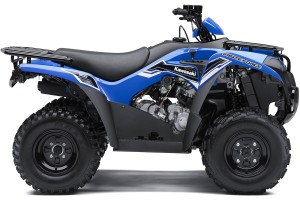 You'll find great comfort when you're in the driver's seat, as the foot pegs are deeply grooved and raised, while the steering is light and easily controlled thanks to the top-notch suspension. It may not be right for long distance riding or serious off-roading, but it's ideal for working the land and taking care of some of your outdoor duties.

Additional Features - For Work And Play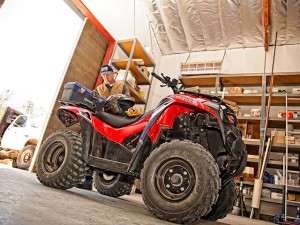 Dual racks on the Kawasaki Brute Force 300 allow you to carry up to 110 pounds of cargo. If that's not enough, it also boasts a towing capacity of about 500 pounds. While tie-down hooks are available to secure your gear, there's a front storage compartment big enough to hold your possessions as well as side pockets built directly into the fender. Adding to the raw towing power of the Brute Force, there is a Warn winch mounting bracket in the front with plenty of space behind the front grill for the winch itself. In addition, there is a DC power socket on the left side of the handle cover, allowing for easy use of power tools and accessories and adding to the machine's utility.

Final Thoughts - Brute Strength, Forceful Attitude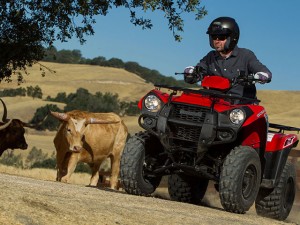 At the end of the day, the 2014 Kawasaki Brute Force 300 performs better and provides more power than many larger and more expensive machines, giving you plenty of bang for your buck. Extra features only enhance the experience behind the wheel. You'll be able to enjoy things like an all-digital instrumentation on the dash - including speedometer, trip meter, fuel gauge, clock and beam indicators - along with a few other additions that should you help you out no matter what you're using the ATV for.

2014 Kawasaki Brute Force 300 Image Gallery
(Click for full size images)