Vintage Bike Brings In $100,000 At Auction
Chaparral Motorsports
|
October 24, 2013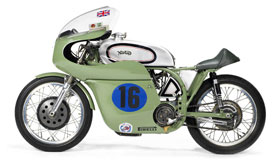 Bonhams has made a name for itself as one of the biggest auction houses for high-profile motorcycles. It certainly cemented this reputation with a recent sale, which put a 1966 Norton 350 Manx up for sale.

By the time the bidding came to a close, the Norton motorcycle had sold for $100,000 - approximately double what it was expected to sell for. It's also a world record price for a Manx machine.

A 1992 Honda NR750 also went up for auction. This limited edition bike sold for more than $93,000, due in large part to its sleek and memorable appearance.

"In strictly performance terms, the Honda NR750 wasn't any faster than many of its more mundane contemporaries," said Ben Walker, head of the Bonhams motorcycle department, as quoted by Motorcycle.com. "What really blew everybody away was the bike ... never before had a production motorcycle looked more like a two-wheeled Ferrari."

These motorcycles are just two of the 436 lots that sold at the Bonhams auction. In total, the bikes and motorcycle gear sold brought in more than $2.1 million.