Jorge Lorenzo Steps Up His Game In Australia
Chaparral Motorsports
|
October 21, 2013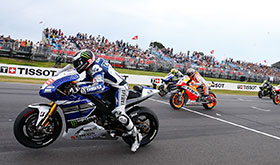 Jorge Lorenzo
managed to stay in the hunt for the MotoGP title with a win at Australia's Phillip Island. The Yamaha rider out-dueled his competitors for the win, bursting out to an early lead and hanging on to the front position as other riders nipped at his heels.

Lorenzo got a break when Marc Marquez received a disqualification. Marquez missed a mandatory pit stop halfway through the motorsports race, and his teammate Dani Pedrosa was penalized a position for stopping a lap too early, giving Lorenzo an easier path to victory. In the end, he finished ahead of Pedrosa and Valentino Rossi for the top podium spot.

"I'm really happy with this win," Lorenzo said. "We've also been lucky because Marc made this mistake. Without that he would have been second or first because he was really fast today. ... Now we have options: If Marc keeps constant on the podium then it is impossible to win the championship, but there are a lot of laps to go so anything could happen."

With the win, Lorenzo is now just 18 points behind Marquez for the championship lead. The two will continue their rivalry next weekend in Japan.