Motorcycle Maniac: 2014 Harley-Davidson Forty-Eight
Chaparral Motorsports
|
October 20, 2013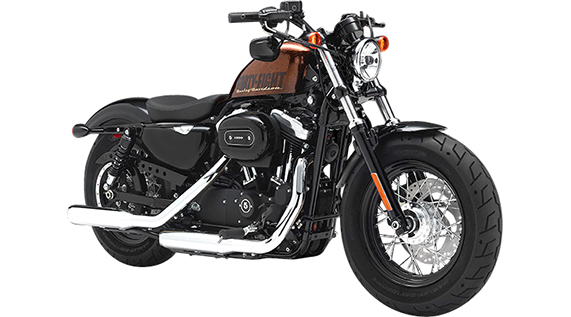 2014 Harley-Davidson Sportster Forty-Eight: A Custom Cruiser From Top To Bottom
There is perhaps no manufacturer that exemplifies the world of motorcycles more than Harley-Davidson. The brand regularly introduces state-of-the-art motorcycles that hold true to history, combining retro designs with new technologies in a way not many other companies have mastered. With so many options to choose from when it comes to Harley-Davidson that it may be hard for riders to choose which of the new models best suits their needs. However, it looks like it will be tough to go wrong with the 2014 Harley-Davidson Forty-Eight.

Superior Power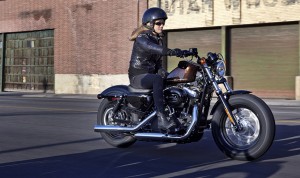 With an air-cooled, 1,200cc engine, the 2014 Forty-Eight is similar to many other Harley-Davidson cruisers. It boasts a maximum torque of more than 70 foot-pounds at 3,500 rpm, which is more than enough power to keep the bike safely maneuvering the roads or highways.

Much like some of the other introductions from Harley-Davidson this year, the Forty-Eight features an upgraded closed loop exhaust system that works to improve its power output. The aluminum materials that make up the motor help to reduce the total weight and improve acceleration, but it was still created with an eye toward detail that makes the engine a top-notch inclusion.

Traditional Chassis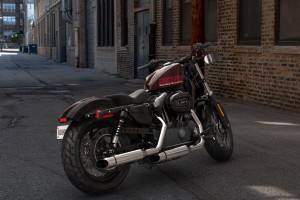 It appears that the 2014 Harley Davidson Forty-Eight was formed in the image of some of the brand's earlier models. It has a sleek exterior but doesn't sacrifice comfort, with the solo seat sitting just 26 inches off the ground. This low height and drag-style handlebars make for a relaxed ride that can be ideal for women or smaller owners, and hand controls are built right in for intuitive riding. Add in qualities like a lowered front suspension and responsive handling, and the end result is an agile bike that still provides security for riders.

Final Thoughts - Plenty Of Extras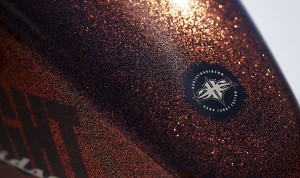 The style of the 2014 Harley Davidson Forty-Eight is designed to evoke the classic nature of many cruisers. It has a great blend of black power-coated gears and chrome accents, and a peanut-shaped fuel tank acts as a throwback to its predecessors. This style tank was first installed in the late 1940s, and although a few things have changed since then, it still offers a cool retro appearance and a 2.1-gallon capacity.

Harley-Davidson also brings the prospect of customization to the 2014 Forty-Eight. Riders can choose from personal paint jobs in colors like Hard Candy Chrome Flake and Hard Candy Volcanic Orange. Both shades reflect the extensive history of the Harley-Davidson brand while also offering a unique look for cruisers.

2014 Harley-Davidson Sportster Forty-Eight Image Gallery
(Click for full size images)