The Dirt Bike Guy: 2014 KTM 200 XC-W
Chaparral Motorsports
|
October 18, 2013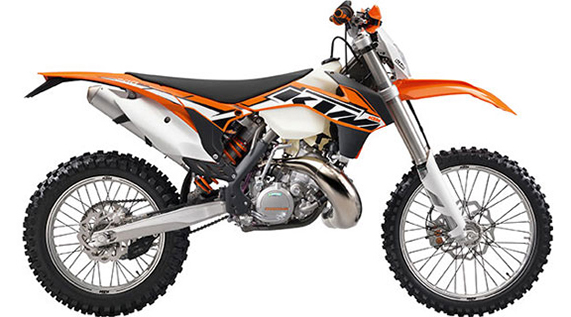 2014 KTM 200 XC-W: Perfect Middle Ground For Enduro Riders
Enduro riders are a special breed of motorcyclists, and they need a unique kind of bike to match them. The 2014 KTM 200 XC-W certainly fits the bill, as the dirt bike combines the agile handling of a 125 with the power normally associated with machines like the 250. Falling in the middle of the spectrum, this new KTM dirt bike offers riders the best of both worlds and will almost definitely be a common sight at motorsports events in the near future.

Engine And Transmission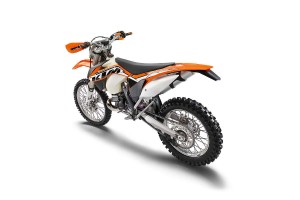 The bike is powered by an optimized engine with a displacement of 200cc. It has been redesigned to improve responsiveness, and with a revamped electric starter revving up the engine almost instantly, you can have the motor warmed up in no time.

Despite the engine's power, it still feels light enough to have you flying across trails. The extra torque and relatively low rpm go a long way toward achieving this, and you can easily control the output with the help of the six-speed transmission. Changing these gears at a fast pace is probably the best way to reach high speeds on the KTM bike.

Chassis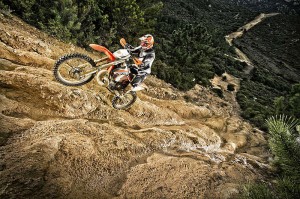 Part of the reason the 2014 KTM 200 XC-W feels like such a light machine is because of the way the frame has been constructed. Made from high-strength chromoly steel, the chassis boasts a modern style and top longitudinal stiffness. Cornering is precise, and the handling practically responds to touch, instantly making it one of the best KTM dirt bikes for agility. The swingarm has been altered to include a chain guide that reduces weight while improving reliability - in fact, several pounds have been shaved off thanks to the makeover of this piece.

A new swingarm matches the new suspension, which has been designed specifically for enduro riding. You can still alter the compression depending on the conditions as well as your track location, but even the most basic setting provides a stable ride. To top it off, the rear monoshock has separate high and low speed adjustments, allowing you to customize the dirt bike to fit your specific needs.

Final Thoughts - Impressive Features
Of all of the other features included on the 2014 KTM 200 XC-W, the brakes are probably the most impressive. The Brembo gear includes new brake pads, a refreshed front-brake master cylinder and a few similar updates, all of which come together to create an impressively strong mechanism.

2014 KTM 200 XC-W Image Gallery
(Click for full size images)