Weekend Warrior: 2014 Honda TRX450R
Chaparral Motorsports
|
October 13, 2013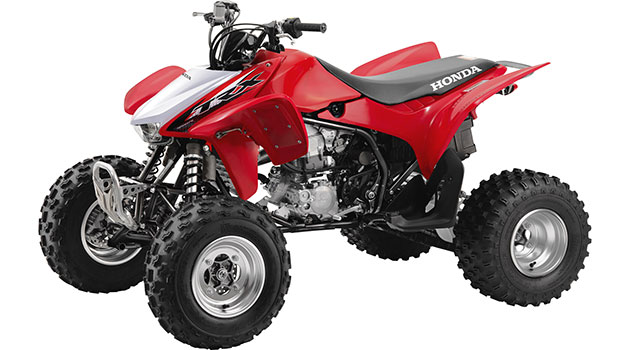 2014 Honda TRX450R: Ready To Race
Looking for an agile ATV that can handle all types of trails? Then you may want to turn your attention to the Honda TRX450R. Honda has a strong reputation for producing top-notch quads, and the TRX450R is no different. The 2014 version is the latest in a long line of race-worthy machines, and its predecessors have won multiple Baja 1000 rallies to prove it.

The new model for 2014 has an impressive array of features that make it a joy to ride, and any user will likely be satisfied with the extras included on the machine.

Engine And Chassis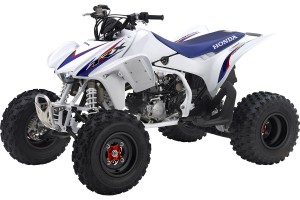 This ATV is powered by a liquid-cooled, single-cylinder, four-stroke engine with a displacement of 450cc. Inspired by Honda's winning motocross engine, this engine has been used by Honda for ATV racing purposes, so it has a history of success on motocross and ATV circuits. With Nikasil lining plated directly to the cylinder wall and Unicam cylinder head design, the motor works well with the 40mm Keihnin FCR-type carburetor to provide crisp throttle response with very little effort.

The Pro-Link rear suspension features an adjustable Showa piggyback shock with more than 9 inches of travel. Additionally, the front suspension employs double-wishbone shocks, an adjustable spring-preload and 8.4 inches of travel. It is anchored by dual 174mm disc brakes with twin-piston calipers, which are constructed from aluminum to keep the weight down. Aluminum is also found in the framework of the Honda TRX450R. The material is a nice blend of toughness and smoothness, so you can get impressive performance at a quiet volume.

Weighing in at 388 pounds, it's on the lighter side of ATVs, but it is strong enough to handle all types of terrain. You can stay on the trails with the help of a 2.7-gallon fuel tank, which includes an 0.8-gallon reserve.

Additional Features
One of the high points of the 2014 Honda TRX450R is its twin-sump lubrication system. With a separate oil supply lubricating the clutch/transmission and the valve train/pistons there is less oil required for maintenance. Another great feature is the electric starter, with the push of button this quad roars to life, whether in the pits, on the trails, or packing for home. Add in the knobby radial ATV tires, which measure 21 and 20 inches in the front and rear, respectively, for excellent grip and improved traction in racing conditions. This is just another way the ATV is catered to competitive situations, and it certainly can make a difference.

Final Thoughts - Time To Hit The Tracks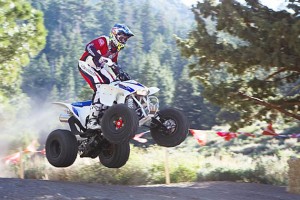 Models of the Honda TRX450R are available in red or a special edition tri-color option. There aren't a lot of other frills, but you don't need the bells and whistles when you have a race-ready machine like this model.

With so many extras and a powerful engine, the 2014 Honda TRX450R will likely attract a number of riders. However, it is created for more experienced users and should be restricted to more competent riders over the age of 16.

2014 Honda TRX450R Image Gallery
(Click for full size images)