Wayne Pierce Motorcycles To Be Auctioned By Bonhams
Chaparral Motorsports
|
October 7, 2013
[caption id="attachment_28953" align="alignright" width="300"]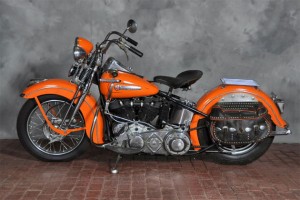 1947 Harley-Davidson FL being auctioned from the Wayne Pierce collection - Photo: Bonhams Auction[/caption]

Motorcycle enthusiasts will have an opportunity to purchase a piece of history when Bonhams hosts one of its famous auto auctions. The auction house is slated to sell more than 50 motorcycles from the Wayne Pierce family museum collection, and any one of these machines may be a good investment for motorcyclists.

Wayne Pierce opened a Harley-Davidson dealership in Illinois in 1957, and he quickly began selling some of the top machines in the country. His shop was one of the last "mom and pop" motorcycle dealerships in the U.S., and the classic bikes that he restored and maintained made up an impressive collection. Pierce was also a talented motorsports competitor, and he participated in hundreds of races throughout his career.

The Las Vegas auction, which is scheduled to take place Jan. 9, will feature dozens of motorcycles from Pierce's collection. Some of the models that are sure to command attention include a 1957 Harley-Davidson Sportster, a 1947 Harley Knucklehead and a 1933 Harley VLE that was used as a police bike before being included in the film "The Untouchables."

A few of the bikes will also be sold with period motorcycle gear and paraphernalia.