Motorcycle Maniac: 2014 Kawasaki Vulcan 1700 Voyager ABS
Chaparral Motorsports
|
October 6, 2013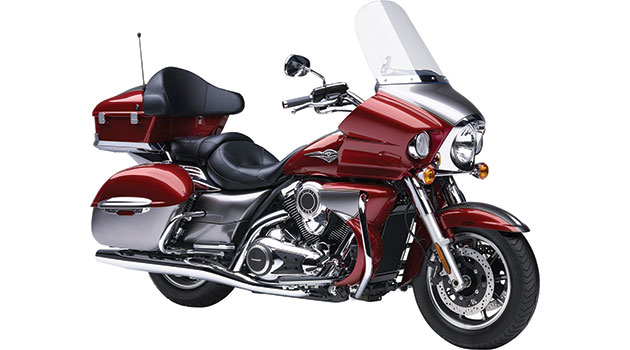 2014 Kawasaki Vulcan 1700 Voyager ABS: Packing In The Power
Kawasaki is not a brand normally associated with cruisers. The Japanese manufacturer has a reputation for producing top-of-the-line dirt bikes, but its cruisers are nothing to scoff at. In fact, the 2014 Kawasaki Vulcan 1700 Voyager ABS is a solid option for riders who want a more affordable bike they can use on their next journey.

A Powerful Engine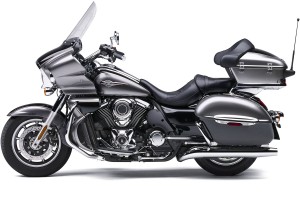 Extreme power is on the menu with the Voyager, largely thanks to a four-stroke, liquid-cooled, V-Twin engine. It's got a displacement of 1,700 cc and accomplishes an astounding 108 foot-pounds of torque at just 2,750 rpm. That is more than enough for any touring cruiser, but the output is only enhanced with the help of a six-speed transmission with overdrive. Whether you need to pass other motorists on the roads, make your way up steep hills or deal with any other types of challenges, the motor is ready and able to help you out.

Refreshed Design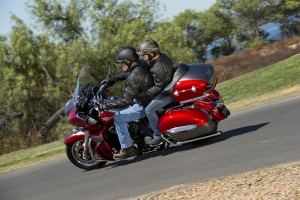 The 2014 edition of the Kawasaki Vulcan 1700 Voyager ABS offers a smaller, more compact design than in the past. The distance between the seat and the steering head has been reduced to offer easier handling, and the setup of the bike was revamped to keep the weight down. By focusing on ergonomics, Kawasaki improved the handling at lower speeds, ensuring that you can achieve top-notch performance at every point in your journey. While cornering may not be ideal on the bike, it is a great option for long stretches of highway.

All of the power put out by the motor requires brakes strong enough to bring the machine to a halt. Those are already installed on the 2014 Kawasaki Vulcan 1700 Voyager ABS. As the name implies, the bike boasts ABS braking, complete with disc brakes with four-piston calipers in the front and two-pistons in the rear.

Final Thoughts - Ideal For Long Trips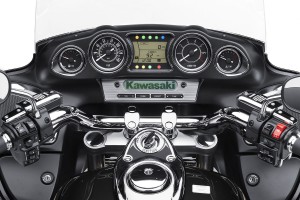 Any touring motorcycle needs to be comfortable enough for riders to want to spend hours on the back of a bike. Frame-mounted fairings provide additional protection from the wind, while a classic retro dashboard lays out all of the controls in an intuitive way. Extra features like cruise control, a lockable trunk and top-opening cases provide plenty of additional amenities riders will enjoy.

The 2014 Kawasaki Vulcan 1700 Voyager ABS has accomplished a rare feat: It combined the style and sophistication of a classic American cruiser with a below-average price, all without sacrificing power or comfort.

2014 Kawasaki Vulcan 1700 Voyager ABS Image Gallery
(Click for full size images)