The Dirt Bike Guy: 2014 Honda CRF250L
Chaparral Motorsports
|
October 4, 2013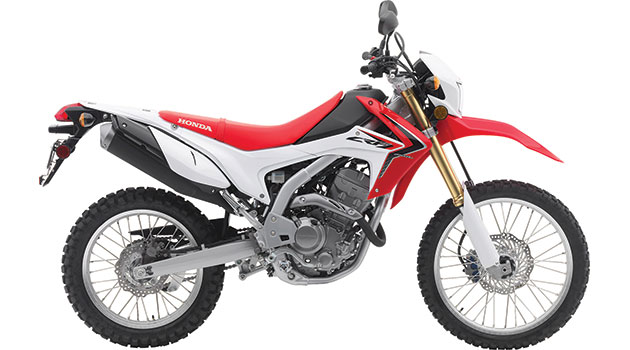 2014 Honda CRF250L: Power And Practicality Converge
There's a lot of things to consider when you're shopping around for a new dirt bike. While some riders may want flashy machines that are ready to race, others are drawn to fuel efficient models that provide a lot of support for owners trying to learn more about riding. Every once in a while, however, a new motorcycle comes along that doesn't require you to choose between these two sides of the spectrum. The 2014 Honda CRF250L is one of these bikes.

Engine - Dual-Sport Power
This dual-sport motorcycle packs enough power to keep riders speeding on the trails. A liquid-cooled, four-stroke, single-cylinder engine propels the machine and boasts a displacement of 250cc. The motor is compact and efficient, working well on anything from congested city streets to open trails in nature. With low-end torque and a six-speed transmission, it's also easy to manage the power output and get the most out of the engine.

Chassis - Ergonomic Practicality
The frame of the dirt bike is designed to offer maximum comfort and ergonomics. It's got 10 inches of ground clearance, allowing you a solid amount of room for navigating obstacle-ridden trails, and the seat height sits comfortably at just under 35 inches high. An up-right seat position and adjustable handlebars ensure you can get in a relaxed position.

Riders are sure to get a lot of enjoyment out of the long-travel suspension and single disc brakes. If that's not enough, the racing-inspired appearance, including a modern-looking headlight and number plate, creates a distinct style.

Final Thoughts - All Things Converge
All of the power and capabilities that the machine is loaded with do not take the place of some practical features. The Honda motorcycle has a 2-gallon fuel tank but can reach up to 73 miles per gallon. Not only can this impressive efficiency keep you riding for longer, but it also helps reduce overall costs of owning and operating the bike.

At its core, the 2014 Honda CRF250L is simply a fun motorcycle. The manufacturer took what it has learned in the past 40 years of making dirt bikes and then put the knowledge to good use. With a great blend of power and practicality, comfort and capabilities, and style and safety, the CRF250L offers riders everything they could need in a dual-sport motorcycle. Available in red, it's certainly an eye-catching option that many riders may want to consider when they go on the hunt for their next purchase.

2014 Honda CRF250L Image Gallery
(Click for full size images)