Weekend Warrior: 2014 Can-Am Maverick 1000R X Mr
Chaparral Motorsports
|
September 30, 2013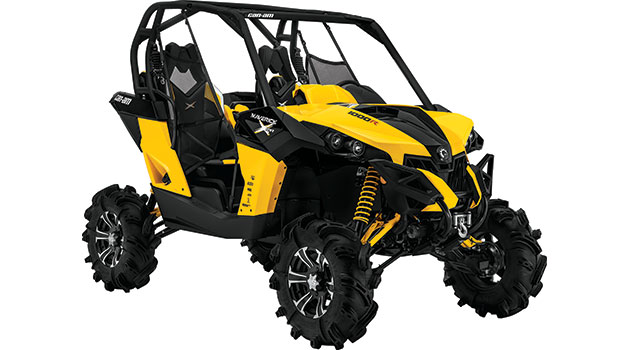 2014 Can-Am Maverick 1000R X mr: Ready To Handle Mud
The newest line of side-by-side utility vehicles being offered by Can-Am comes in several special upgrades from the base package, the Maverick. Of these custom designed packages, one of most highly anticipated UTVs set to enter the market in the near future is the 2014 Can-Am Maverick 1000R X mr. Designed to provide some of the most exceptional off-road performance on the market, this Can-Am UTV is set to quickly rise to the top of the market.

Engine And Chassis
[caption id="attachment_28859" align="alignright" width="300"]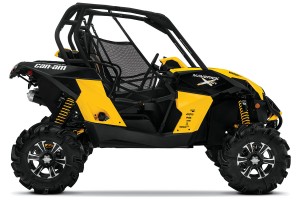 2014 Can-Am Maverick 1000R X mr - Side[/caption]

There is no shortage of power with the Can-Am Maverick X mr. The 976cc/101-hp liquid-cooled, Rotax V-twin power plant operates with a large air intake to increase power and is controlled with the help of the CVT transmission. This gear has been modified to maximize performance depending on the setting and speed. Riders can choose the level assistance they want when it comes to power steering, and they won't have to worry about water clogging the system, as the intake has been raised to allow for better performance in wet conditions.

A heavy-duty design has the 2014 Can-Am Maverick 1000R X mr ready to handle any type of obstacle on the roads. The Can-Am has a rugged front bumper, custom steering wheel and a winch kit with a capacity of 4,000 pounds, making the machine ideal for anything from recreational use to heavy-duty work.

An optional narrowing kit allows rider to decrease the width from 64 inches to 60 inches. This small change is enough to make a big difference in the woods, when you'll need all of the clearance you can get, and it offers a great way to start customizing the machine to fit every one of your needs.

Additional Features
[caption id="attachment_28857" align="alignright" width="300"]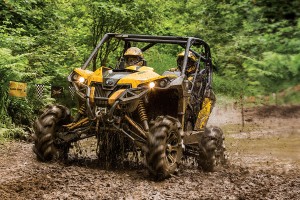 2014 Can-Am Maverick 1000R X mr in action.[/caption]

The 2014 Can-Am Maverick 1000R X mr comes equipped with 30-inch Gorilla Axle Silverback tires. Known for their exemplary handling in muddy terrain, these UTV tires are ideal for off-road adventures and have the deep tread to prove it. Despite the fact that they are made for potentially sticky situations, the tires offer smooth sailing over other types of land and can help a rider achieve a comfortable driving experience. These accessories are only enhanced with the Visco-Lok QE technology, which transfers power from a loose wheel to a gripping one for better safety and security.

Riders who want to look good as they go out on their adventures are in luck. The 2014 Can-Am Maverick 1000R X mr is available in specialized black and yellow graphics. The interior is just as impressive, with a new instrumentation display providing both digital information and an analog speedometer.

2014 Can-Am Maverick Family Image Gallery
(Click for full size images)