Motorcycle Maniac: 2013 Honda VFR1200F DCT
Chaparral Motorsports
|
September 28, 2013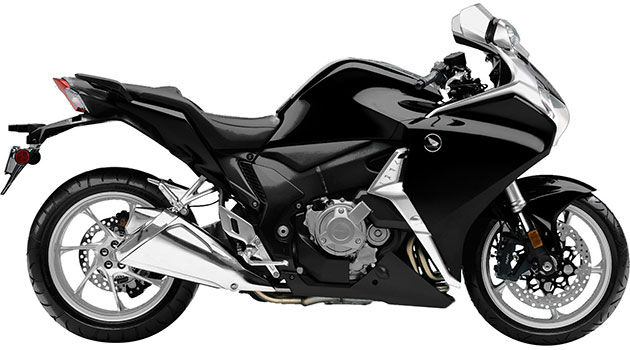 2013 Honda VFR1200F DCT: A Dual Clutch Transmission And Much More
If you're a motorsports fan, there's a good chance you've heard of a dual clutch transmission. While the feature is most commonly included in sports cars and racing bikes, Honda has decided to add the technology in its street motorcycles, providing riders with an intriguing option that can significantly upgrade their experience.

One of the first models to include dual clutch transmission is the 2013 Honda VFR1200F. This Honda motorcycle is more than just a new transmission, however - it features a powerful engine, sleek frame and a few modern features that make the machine a worthy model for any rider.

Engine And Transmission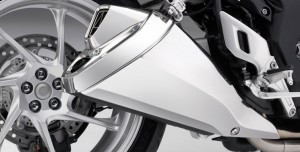 At the center of the most current Honda VFR1200F is a fuel-injected, liquid-cooled, V-4 engine that can generate up to 170 horsepower. With a displacement of 1,237cc and low-end torque, the motor is one of the most advanced of any street bike on the market. The engine works well with the machine's throttle-by-wire system, which improves the efficiency and handling to create a more responsive bike with even acceleration at any speed.

It's the dual clutch transmission that steals the show, however. You can change to one of the six gears while on the move with just a finger, and there are also options for two automatic modes, which are great for regular cruising or more sport-centric riding. There's no clutch lever on the Honda VFR1200F, so it may take some getting used to, but once you're acclimated to the upgraded dual clutch transmission you'll find it was well worth it.

Chassis
One of the main takeaways from the 2013 Honda VFR1200F is the new, compact design. Helped by a smaller - but still powerful - engine, the Honda bike uses a unique layout that narrows the motor at the rider's feet, allowing for a slimmer frame on the motorcycle. Although the ergonomics have been constructed to take advantage of a compact chassis, the bike is still well suited for taller riders and has plenty of space for anyone to find a comfortable position when sitting back on the Honda's seat.

Other Features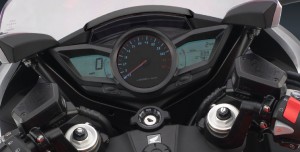 This modern Honda motorcycle has plenty of qualities any rider will be looking for. A glossy black paint job with silver accents - currently the only option available - leaves the machine looking sleek and sophisticated. You can also benefit from a trip computer, which calculates the current and average miles per gallon, as well as how many miles are left in the five-gallon fuel tank.

2013 Honda VFR1200F DCT Image Gallery
(Click for full size images)