Alpinestars Introduces New Denim Motorcycle Gear
Chaparral Motorsports
|
September 25, 2013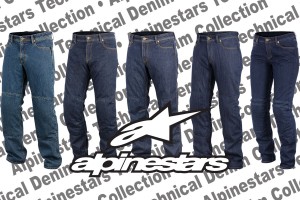 Investing in the right motorcycle gear is essential for any rider. Whether you're on a cruiser or a dirt bike - or anything in between - you have to make sure you are outfitted with the motorcycle apparel that's designed to provide the optimum combination of comfort and safety.

Many riders find their premier outfits in the collections offered by Alpinestars. The company recently unveiled one of its new lines for 2014, and the assortment of gear should be ideal for motorcyclists who want to incorporate their unique style into their safety accessories.

On the outside, the Technical Denim Collection from Alpinestars looks like normal jeans. Denim material creates a casual appearance that makes the clothing ideal for those riders who need to adjust to many different settings.

The exterior of the motorcycle pants is just the beginning, however. Strong synthetic material reinforcements are used in key areas to provide extra protection for the hips and knees. There are also removable pads for certain areas along the leg, which stay in place with the help of Velcro for a secure fit.