2013 AMA EnduroCross Ontario Results
Chaparral Motorsports
|
September 23, 2013
EnduroCross Gets Into Its 2013 Season
[caption id="attachment_28753" align="alignright" width="300"]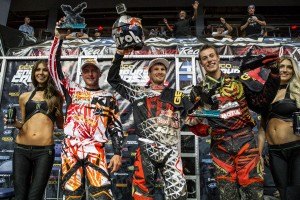 Taddy Blazusiak, Mike Brown, and Cody Webb on the winner's podium - Photo: Drew Ruiz[/caption]

The third round of GEICO AMA EnduroCross took place over the weekend of Sept. 21, and it looks like many of the top dirt bike riders in the motorsports series are getting back in the groove of competition. Taddy Blazusiak, the defending champion, certainly regained his form, winning the Ontario round after a tough battle with rival Mike Brown.

Brown started out in front, leading the pack as the riders took off from the starting line. When he faltered on the firewood section of the race, however, he left the door open for his closest competitor. Blazusiak capitalized on the mistake, shooting forward to take over the lead, which he maintained for the remainder of the race.

"It feels so good to be back on top," Blazusiak said after the race. "I have been working really hard and I am glad I was able to challenge for the win and take the victory. Mike [Brown] is a tough competitor and it is good to always have someone push me."

With the win, Blazusiak gains some ground in the overall standings. He now sits in second place with 65 points, just seven points behind Brown. The next round of EnduroCross will take place in Denver Oct. 12.

Taddy Blazusiak Takes Exciting Ontario GEICO EnduroCross Win
Mike Brown and Cody Webb round out the podium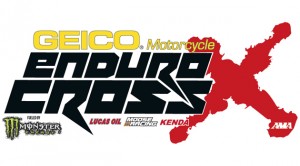 KTM's Taddy Blazusiak took an exciting win at round three of the 2013 GEICO AMA EnduroCross series, fueled by Monster Energy and presented by Lucas Oil in Ontario, California. Mike Brown led for five laps and looked poised to take his third EnduroCross win in a row until a small mistake allowed Blazusiak to take the lead. Beta's Cody Webb rode a steady race and kept the leaders in sight to take the final podium position.

Brown, JCR Honda's Colton Haaker and Blazusiak were the three heat race winners but the new night time hot lap format decides the main event gate picks: Haaker set the fastest time over Webb, Blazusiak and Brown. Taylor Robert was the big loser as a crash relegated him to a second row starting position.

Brown took the early lead over Haaker at the start with Gary Sutherlin third and Blazusiak fourth. Haaker stalled his bike on the second lap and Blazusiak had already passed Sutherlin so he was quickly into second. The two KTM riders looked evenly matched until the sixth lap when Brown got held up by a down Geoff Aaron. Blazusiak took advantage of that and squeezed past Brown to take the lead at the halfway point. Brown kept it very close and Webb had also moved to within striking distance after Blazusiak and Brown got hung up in one of the rock sections. Blazusiak was able to hold a safe margin over the last few laps.

Monster Kawasaki's Robert moved through the field to take fourth ahead of Haaker. Kyle Redmond finished sixth in his first ride on a KTM 250 Two-Stroke. Sutherlin finished seventh, Cory Graffunder was eighth, Justin Soule was ninth and Geoff Aaron rounded out the top ten.

[caption id="attachment_28754" align="alignleft" width="300"]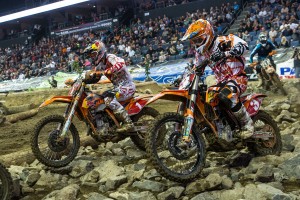 Mike Brown will take a seven point lead over Taddy Blazusiak into the next round of the series - Photo: Drew Ruiz[/caption]

Brown will take a seven point lead over Blazusiak into the next round of the series in Denver, Colorado on October 12th. Robert maintains third position another ten points back. Brown has 72, Blazusiak 65 and Robert 55.

The night also included several amateur classes and Kurt Nicoll took the Vet class win with a last lap pass to take the lead from runner up, Coby Begin. Canada's Stephen Foord finished third. Tucker Larrieu won a great three way battle to take the Open Amateur win over Ian Young and Noah Kepple. Ty Cullins won the TrialsCross class over Stephen Morgan and Michael Salsman.

Canada's Chantelle Bykerk took the Women's main event win over Rachel Gutish and Morgan Tanke. It was one of the largest Women's fields to date with nearly twenty riders competing for the 12 main event spots.

For more information, please visit www.EnduroCross.com.



Source: EnduroCross

Taddy Blazusiak Tops Podium At Ontario EnduroCross
[caption id="attachment_28751" align="alignright" width="200"]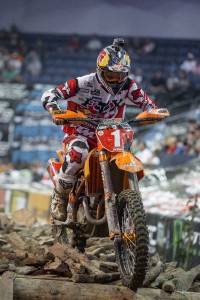 Taddy Blazusiak took his first victory of the season - Photo: Drew Ruiz[/caption]

Red Bull KTM Factory rider Taddy Blazusiak took his first victory of the season after a tight battle with series point's leader, Factory FMF/KTM's Mike Brown, at the third round of the series held at Citizens Bank Arena.

Brown, the winner of the first two rounds of the series, started the night off well after grabbing the holeshot in his heat. He went on to lead the entire heat to take the win and transfer into the main event.

Blazusiak followed in Brown's footsteps and led each lap of his heat to also take a win and a spot in the main event. "I switched to the 250 XC-F for this event," stated Blazusiak. "The bike is great and feels much lighter than my previous bike so I can easily maneuver around the track."

When the gate dropped for the main event, it was Brown who launched off the line first and came around the first corner and into the rock section with the lead. Blazusiak was right behind him in second position. The two teammates pulled away from the rest of the field and began their race long battle. Brown held the lead through the first half of the race before he made a mistake in the firewood section that allowed Blazusiak to close the gap. The next corner, Blazusiak made his pass for the lead.

[caption id="attachment_28752" align="alignleft" width="200"]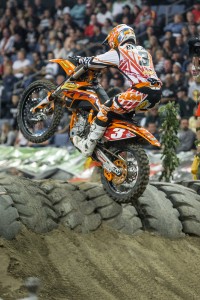 Mike Brown placed second, but is still in the points lead - Photo: Drew Ruiz[/caption]

Brown did not let Blazusiak out of his sight and the two remained close for the remaining laps. When the checkered flag flew, it was Blazusiak who held on for the win with Brown finishing second. Cody Webb rounded out the podium in third.

"It feels so good to be back on top," commented Blazusiak. "I have been working really hard and I am glad I was able to challenge for the win and take the victory. Brown is a tough competitor and it is good to always have someone push me."

Brown commented, "I'm glad to be on the podium for my team, but of course, I would rather be on the top step. Taddy and I were close today and there are a lot of races left so I need to work harder to get on the top step and maintain my points lead."

Next Event: Denver, CO - October 12, 2013

Source: KTM North America

Cory Graffunder Back In Action
Factory Husqvarna's Cory Graffunder was back in action in Ontario, California where round three of the AMA EnduroCross series was underway. Graffunder was looking to repeat his podium performance from round two, but had to settle for eighth in the main event.

"It wasn't really an ideal night," Graffunder lamented. "I never jumped the matrix - a lot of guys were jumping that and I probably should have."

Graffunder was still able to maintain his position in overall points, leaving Ontario still in a solid fifth overall. With only three of the seven rounds in the books, Cory has hopes of getting his TXC310R back up on the podium at an AMA EnduroCross this season.

Source: Husqvarna

Ontario Overview And Point Standings
2013 GEICO AMA EnduroCross Ontario Image Gallery (Click for full size images)


Overall Results EX Pro Class






































































































































































































































| Finish | # | Name | Brand | Points Earned |
| --- | --- | --- | --- | --- |
| 1st | #1 | Taddy Blazusiak | KTM | 25 |
| 2nd | #3 | Mike Brown | KTM | 22 |
| 3rd | #2 | Cody Webb | BTA | 20 |
| 4th | #33 | Taylor Robert | KAW | 18 |
| 5th | #10 | Colton Haaker | HON | 16 |
| 6th | #7 | Kyle Redmond | KTM | 15 |
| 7th | #324 | Gary Sutherlin | KTM | 14 |
| 8th | #118 | Cory Graffunder | HSQ | 13 |
| 9th | #6 | Justin Soule | KAW | 12 |
| 10th | #4 | Geoff Aaron | KTM | 11 |
| 11th | #9 | Bobby Prochnau | KTM | 11 |
| 12th | #15 | Max Gerston | BTA | 9 |
| 13th | #27 | Wallace Palmer | CHR | 8 |
| 14th | #125 | Jamie Lanza | HSQ | 7 |
| 14th | #8 | Destry Abbott | KAW | 7 |
| 15th | #5 | Bryan Roper | KTM | 6 |
| 15th | #539 | Ricky Dietrich | KTM | 6 |
| 16th | #11 | Ryan Sandoval | KTM | 5 |
| 16th | #911 | Jacob Argubright | TM | 5 |
| 17th | #114 | Ty Tremaine | KTM | 4 |
| 17th | #214 | David Broderick | KAW | 4 |
| 18th | #551 | Phil Smage | GAS | 3 |
| 18th | #575 | Nick Thompson | KTM | 3 |
| 19th | #811 | Mitch Anderson | KAW | 2 |
| 19th | #696 | Noah Kepple | HON | 2 |
| 20th | #158G | Tucker Larrieu | TM | 1 |
| 20th | #77 | Joseph Mashchak | KTM | 1 |
| - | #649 | Harrison Oswald | KTM | 0 |
| - | #78 | Steven Stultz | HON | 0 |
| - | #949 | Nic Garvin | KTM | 0 |
| - | #243 | Colby Begin | KTM | 0 |
Rider Point StandingsEX Pro Class
| Place | Name | Las Vegas | Sac. | Ontario | Denver | Everett | Boise | Las Vegas | Total |
| --- | --- | --- | --- | --- | --- | --- | --- | --- | --- |
| 1st | Mike Brown | 1st | 1st | 2nd | | | | | 72 |
| 2nd | Taddy Blazusiak | 2nd | 4th | 1st | | | | | 65 |
| 3rd | Taylor Robert | 6th | 2nd | 4th | | | | | 55 |
| 4th | Colton Haaker | 3rd | 5th | 5th | | | | | 52 |
| 5th | Cory Graffunder | 7th | 3rd | 8th | | | | | 47 |
| 6th | Kyle Redmond | 8th | 6th | 6th | | | | | 43 |
| 7th | Cody Webb | 4th | | 3rd | | | | | 38 |
| 8th | Justin Soule | 9th | 8th | 9th | | | | | 37 |
| 9th | Gary Sutherlin | 13th | 7th | 7th | | | | | 36 |
| 10th | Geoff Aaron | 5th | 14th | 10th | | | | | 34 |
Overall Results Womens Class
| Finish | # | Name | Brand | Points Earned |
| --- | --- | --- | --- | --- |
| 1st | #3 | Chantelle Bykerk | KTM | 25 |
| 2nd | #217 | Rachel Gutish | YAM | 22 |
| 3rd | #31 | Morgan Tanke | KTM | 20 |
| 4th | #27z | Kendall Reed | KTM | 18 |
| 5th | #68 | Tara Geiger | KTM | 16 |
| 6th | #89 | Sarah Whitmore | KTM | 15 |
| 7th | #63 | Jolene Van Zugt | SUZ | 14 |
| 8th | #972 | Tatum Sik | HON | 13 |
| 9th | #2 | Louise Forsley | KTM | 12 |
| 10th | #11 | Melissa Harten | GAS | 11 |
| 11th | #621 | Rily Ellinger | KTM | 10 |
| 12th | #426 | Megan Blackburn | KAW | 9 |
| - | #7 | Nicole Madsen | HSQ | 0 |
| - | #406 | Veronica Whitesell | KTM | 0 |
| - | #15 | Jackie Ives | YAM | 0 |
Rider Point StandingsWomens Class
| Place | Name | Las Vegas | Sac. | Ontario | Denver | Everett | Boise | Las Vegas | Total |
| --- | --- | --- | --- | --- | --- | --- | --- | --- | --- |
| 1st | Chantelle Bykerk | 2nd | 2nd | 1st | | | | | 69 |
| 2nd | Rachel Gutish | 3rd | 3rd | 2nd | | | | | 62 |
| 3rd | Morgan Tanke | 5th | 7th | 3rd | | | | | 50 |
| 4th | Sarah Whitmore | 8th | 6th | 6th | | | | | 43 |
| 5th | Tatum Sik | 11th | 5th | 8th | | | | | 39 |
| 6th | Lexi Pechout | 10th | 1st | | | | | | 36 |
| 6th | Melissa Harten | 9th | 8th | 10th | | | | | 36 |
| 8th | Shelby Turner | 1st | | | | | | | 25 |
| 8th | Nicole Madsen | 7th | 10th | | | | | | 25 |
| 10th | Rily Ellinger | | 9th | 11th | | | | | 22 |
Manufactuerer Cup Point Standings


KTM - 90

Kawasaki - 63

Honda - 54

Beta - 52

Husqvarna - 23

Team TM - 10

Christini - 5

Gas Gas - 3