Weekend Warrior: 2014 Yamaha Grizzly 700 FI
Chaparral Motorsports
|
September 22, 2013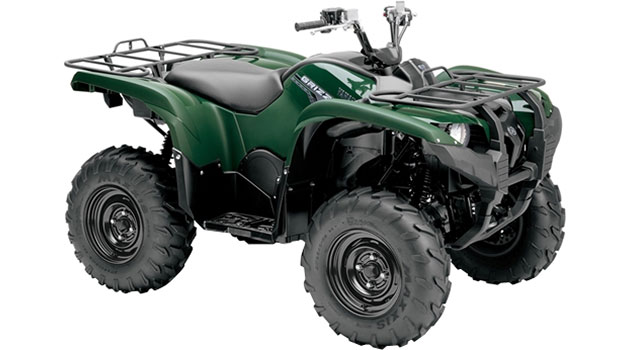 2014 Yamaha Grizzly 700 FI: Leader Of The Pack
Throughout the years, the Yamaha Grizzly has remained one of the most popular ATVs on the market. Consistent updates have helped the machine feel fresh, and some of the most recent changes implemented for the 2014 model are particularly impressive.

The 2014 Yamaha Grizzly 700 FI has a wide range of features that any fan of ATVs should enjoy, and these upgrades help make it one of the most impressive new machines out there.

Engine And Chassis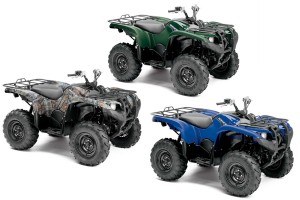 Powering the 2014 Yamaha Grizzly 700 FI is a single-cylinder, liquid-cooled, four-stroke engine. With a displacement of about 700cc, it's on the high end of the pack as far as power output goes, and the improved efficiency of a new induction system helps riders to get the most out of its capabilities. New settings were put in place to help improve performance at any level, and a modified piston shape helps to increase power and torque in all rev ranges.

The 2014 Yamaha Grizzly 700 FI is a mid-size ATV, but that doesn't mean it's not capable of handling intense work. It's got 10.8 inches of ground clearance to help riders get through any type of terrain, while a molded front bumper and CV joint guards protect much of the machine from damage often caused by off-roading. Add in a 5.3-gallon fuel tank and a 1.2-gallon storage container, both of which are placed under the seat for the best ergonomics, and you've got an ATV that is big enough to meet all of your needs without sacrificing agility and handling.

You can also switch easily from two-wheel to four-wheel drive, making it easy to tweak the machine for your needs and take advantage of every one of the ATVs capabilities.

Additional Features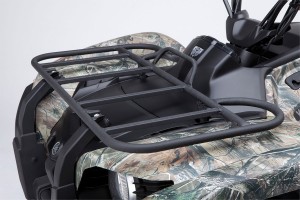 Extras like a digital instrument panel and electric power steering make it easy to drive and care for the 2014 Yamaha Grizzly 700 FI. The LCD screen displays information like the speedometer, odometer, dual tripmeter, hour meter, clock, fuel gauge and more. Its halogen headlights have high and low beams that can be extremely useful for riding in inclement weather or at night.

Working with the Grizzly 700 isn't a problem, thanks to the 1,300-pound towing capacity and a central heavy-duty trailer hitch. Several steel cargo racks are designed to hold an additional 286 pounds in the front and rear, allowing for even more practical uses. Smaller touches like the paint job, which is in hunter green, steel blue, or camouflage, also help to further the idea that this is an ATV that is ready for anything.

2014 Yamaha Grizzly 700 FI Image Gallery
(Click for full size images)