Motorcycle Maniac: 2013 Victory Vegas Jackpot
Chaparral Motorsports
|
September 20, 2013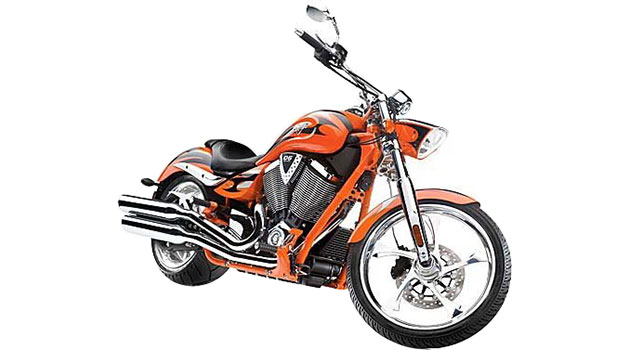 2013 Victory Vegas Jackpot: Cash In With A Specialty Cruiser
When Victory first introduced the Vegas Jackpot motorcycle in 2006, the company intended for the bike to become one of its signature muscle cruisers. In the years since, the machine has evolved into a powerful and customized motorcycle that is capable of attracting some attention on the road - and certainly deserves respect there as well. Although the model may be overshadowed by some of its more popular counterparts, the 2013 Victory Vegas Jackpot is a cruiser that has earned its spin in the spotlight.

Engine And Chassis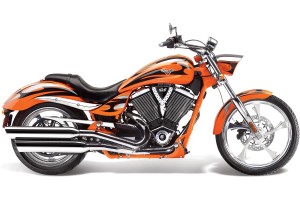 Victory wanted its riders to think of power when they hopped on the 2013 Vegas Jackpot, and that has certainly been the case. The motor has a displacement of 1,731cc and can reach up to 113 foot-pounds of torque, which is more than enough power to accurately maneuver the bike in any scenario. The four-valve, V-Twin, air- and oil-cooled engine works with the six-speed overdrive transmission to provide a deep throttle response that any rider will be able to appreciate. This combination of top-notch acceleration, power and control makes the 2013 Victory Vegas Jackpot quite the desirable bike.

Once you get over the tremendous power behind the 2013 Victory Vegas Jackpot, you can turn your attention to the framework. The Victory motorcycle comes with a style that is all its own, and its unique look is one that is sure to turn heads.

The bulk of the frame is orange, with plenty of chrome accents included to make the machine pop. Even the swingarm has been color-matched to the rest of the body, giving the motorcycle a completely customized look. Another special element is the front wheel, which is a custom, 21-inch item that contrasts nicely with the 18-inch rear tire. Each of these motorcycle tires is designed to provide responsive handling and a smooth driving experience.

Final Thoughts - Hit The Jackpot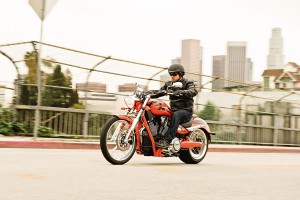 The 2013 Victory Vegas Jackpot only weighs in at 652 pounds, which is relatively low for a machine of this size and caliber. This lighter weight is a necessity, as the fuel tank only holds 4.75 gallons. Extras, like touring seats, backrests and other motorcycle accessories are available for those riders who want to be able to take the bike for long journeys.

Throughout the years, the Victory Vegas Jackpot has continued to impress riders with its strong personality and powerful machinery. More than seven years after its introduction, the motorcycle remains a force to be reckoned with.

2013 Victory Vegas Jackpot Image Gallery
(Click for full size images)