The Dirt Bike Guy: 2013 KTM 350 XC-F
Chaparral Motorsports
|
September 20, 2013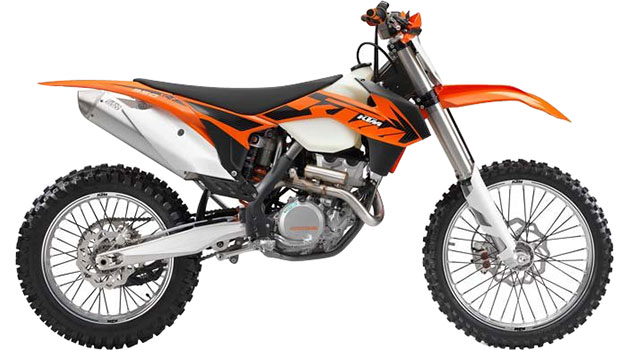 2013 KTM 350 XC-F: Lightweight But High-Powered
Sometimes, timing is everything. That's especially true when you're trying to ride a dirt bike for hours on end, as getting the most out of your machine becomes an integral part of your riding experience. Dirt bikers everywhere will appreciate the 2013 KTM 350 XC-F, which offers superior handling and power to go along with its light weight and plenty of extra features - all combining to create a top-of-the-line bike that can support some intense riding.

Engine
The four-stroke, water-cooled engine of the 2013 KTM 350 XC-F powers the machine with a displacement of 350cc. It's lighter than the motor in previous models thanks to the use of a new die cast housing, but it provides the same extra oomph of power that riders have come to expect from KTM. You can accelerate with ease with the unit, giving you plenty of extra push to conquer whatever obstacles are in your way.

Chassis
One of the major advantages of this KTM dirt bike is its weight. Coming in at about 236 pounds, it's an extremely light machine that can easily meet the demands of the trails. The low weight hasn't adversely affected its stability, however, as the bike is made from high-strength chromoly steel and uses a unique design to maximize rigidity. The end result is a near-perfect blend of easy handling and precise steering. Not only is this great for experienced riders who need precision as they navigate tough trails, but it's also ideal for intermediate motorsports enthusiasts who are still learning the ropes of tougher enduro routes.

Final Thoughts - Top-Notch Enduro Bike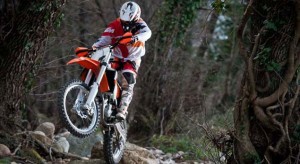 A fuel-tank capacity of 2.25 gallons provides more than enough gas to power the light machine for an extended period of time, allowing riders to test the very limits of their dirt bike gear and enduro skills. When you add in the kick and electric starter, as well as a few other minor changes that enhance the overall experience you'll have on this KTM 350, you've got a top-notch dirt bike.

If you compare the 2013 KTM 350 XC-F with some of the previous models from the lineup, you'll see that the machine has been given almost a complete facelift, and to successful results. Riders with medium to high skill levels can really appreciate all of the advantages that come with the dirt bike and will certainly be able to dominate their local enduro trails with it.

2013 KTM 350 XC-F Image Gallery
(Click for full size images)