Popularity Of Isle Of Man TT Race Increases
Chaparral Motorsports
|
September 18, 2013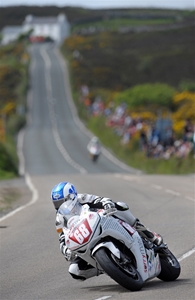 The annual Isle of Man TT only just ended, but some experts are saying it was one of the most successful events to date. Early figures are showing that an impressive number of people followed this year's motorsports event on television or through some other medium.

According to data released by the Isle of Man TT office, viewership increased 20 percent compared to 2012. Race highlights and recaps broadcast in the U.S. also saw an uptick in viewers, and the online stream of the event was used by more individuals as well.

Not only did the motorsports event attract more viewers, but it also drew an increased number of visitors to the Isle of Man itself. According to Isle of Man Today, nearly 40,000 enthusiasts traveled for the 2013 version of the race - a whopping 27 percent jump from 2010. Most of these visitors stayed for six or seven nights, allowing them to enjoy much of the island as well as the variety of races, motorcycle shows, vendor specials on motorcycle gear and more.

Officials hope the enthusiasm will carry through to the 2014 race, which is scheduled to be held from May 23 to June 7.