Michael Jordan Suzuki Wins AMA SuperSport Title
Chaparral Motorsports
|
September 17, 2013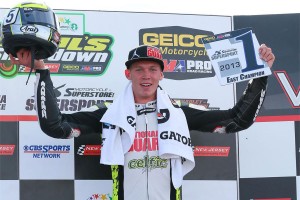 Michael Jordan Motorsports' National Guard Celtic Racing Suzuki's Corey Alexander won the 2013 AMA Pro SuperSport East Championship at New Jersey Motorsports Park in Millville, New Jersey at the weekend.

Representing MJM's 600cc contingency in the SuperSport class, Alexander carded two podium finishes en-route to winning the coveted title.

"I think these were probably the hardest races I've ever ridden," said Alexander, who finished second on Saturday and third on Sunday. "The National Guard Celtic Racing Suzuki GSX-R600 was great the whole weekend and it's been a real good bike for us all year, so I knew coming into New Jersey that we would be strong here. I'm excited to win the AMA Pro SuperSport East championship - that's a lot of stress off my shoulders. The past few nights, it's been tough to sleep so I'm real excited with the outcome of this weekend."

In the AMA Pro National Guard Superbike class, the MJM team also had cause to celebrate: National Guard Jordan Suzuki's Roger Hayden turned in a stellar performance and captured a podium finish, while MJM team-mate Danny Eslick racked-up a very respectable top-five result.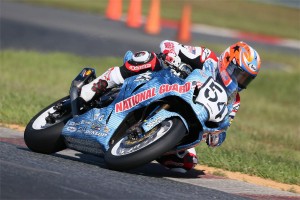 In Saturday's race, National Guard Jordan Suzuki's Hayden got a great start on his Jordan Suzuki GSX-R1000 and had slotted securely into second when a red flag was thrown due to oil on the track. After the race was restarted, Hayden put his head down and fought hard for the remaining laps before snapping-up second place on the last lap. In Sunday's race, Hayden again got a good start and battled for a podium position for the entirety of the race before finishing fourth.

"Saturday's race was really good," said Hayden. "We were a little bit quicker than on Sunday. The Jordan Suzuki GSX-R1000 was great all weekend but we had a little more speed on Saturday. The National Guard Jordan Suzuki team has been working really hard for me and I know that fourth place isn't exactly what we want, but overall it was a good weekend and we were competitive in both races. Now I'm looking forward to Laguna, a track I've done well at, and finishing the season out strong."

Meanwhile, Jordan Suzuki's Eslick made the best of what could only be called a tough situation. In Saturday's race he jumped the start and was penalized. Shortly thereafter, the red flag delayed the race, but despite all this, Eslick turned in a solid performance on his Jordan Suzuki GSX-R1000 and still pulled out a sixth-place finish. On Sunday, his race was less fraught and Eslick got up to a podium position before eventually finishing fifth.

"On Saturday at the start of the race, I was ready to go and the starter wasn't quite ready," said Eslick. "So I got a five-second penalty. Then there was the red flag and that changed everything. I got the short end of the stick on the red flag, but that's racing. Then Sunday, I got off with the lead pack and was able to make a few moves and it was good to be racing with my team-mate and the guys up front. Overall, we got the Jordan Suzuki GSX-R1000 up there and rolling pretty good this weekend."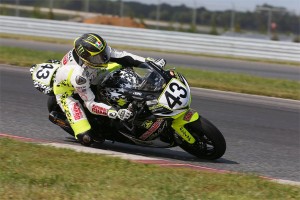 Also racing one of the 600cc classes, National Guard Celtic Racing Suzuki's James Rispoli finished a solid sixth on Saturday and eighth on Sunday.

In the 2013 AMA Pro National Guard Superbike Championship series rider point standings, Hayden is fourth while Eslick sits in fifth. In AMA Pro Daytona SportBike, Rispoli is sixth and Alexander is the new AMA Pro SuperSport East Champion.

The Michael Jordan Motorsports team's next event and the final race of the 2013 AMA Pro National Guard Superbike Championship series is at Mazda Raceway Laguna Seca in Monterey, California on September 27-29th.

MJM Suzuki AMA Pro Motorcycle New Jersey Image Gallery
(Click for full size images)


Source: Team Suzuki