Jorge Lorenzo Wins Again At Misano
Chaparral Motorsports
|
September 16, 2013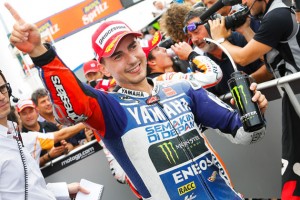 Yamaha's Jorge Lorenzo won a close race at the Misano circuit in the Republic of San Marino, where he dominated the sportbike field during the 13th round of the motorsports series. The rider finished more than three seconds ahead of second-place finisher Marc Marquez.

This was the second win in a row for Lorenzo and his third straight victory at the Misano circuit.

"I was convinced to follow my strategy of the last couple races, which was to try to break away, and finally I could do it," Lorenzo said after the race. "... I'm happy, we recovered five points and we are closer to Marc [Marquez]. I need to be constant and try to win races and stay focused."

The San Marino Grand Prix marked the fourth consecutive race where the same three riders landed on the podium: Lorenzo, Marquez and Dani Pedrosa. These three competitors are also the top three in the overall standings, with Marquez sitting in front with 253 points while Lorenzo and Pedrosa are tied with 219 points.

Each of these three riders still have a chance at claiming the championship title. Valentino Rossi and Cal Crutchlow are also mathematically still in the title hunt as well, but with only five events left, they are running out of time to make a move.

The next round is schedule for Sept. 29 at Spain's Aragon circuit.