Motorcycle Maniac: 2014 Harley-Davidson Iron 883
Chaparral Motorsports
|
September 15, 2013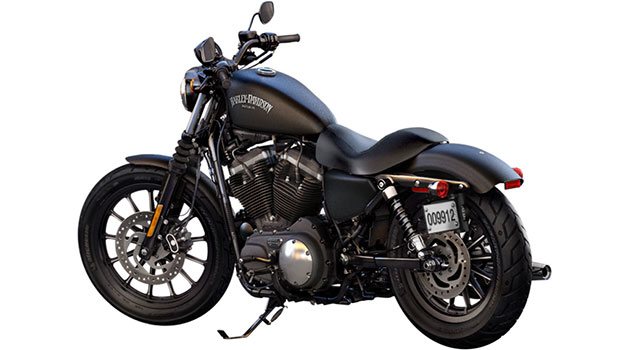 2014 Harley-Davidson Iron 883: A Blacked-Out Beauty
Harley-Davidson has revealed its newest lineup, and some of the motorcycles are sure to catch the eye of riders everywhere. One of the most anticipated bikes is probably the 2014 Harley-Davidson Sportster Iron 883, which features a host of improvements and cruiser accessories that should cause motorcycle fans to take notice.

Engine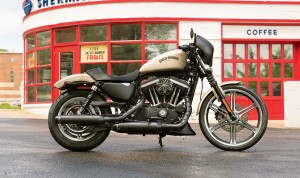 Powered by an air-cooled engine with a displacement of 883cc, this Harley-Davidson motorcycle provides enough oomph to satisfy riders. Its maximum torque clocks in at 53.8 foot-pounds at 3,750 rpm, and this, along with the rubber-mounted motor, helps to decrease vibrations. A standard five-speed transmission allows bikers to control the power output with ease.

Another element that shouldn't be overlooked is the fact that the 2014 Harley-Davidson Iron 883 features a new closed-loop exhaust system. Not only does this help the bike meet emissions standards, but it also provides the rumbling engine that so many riders have come to expect from a Harley-Davidson machine.

The Chassis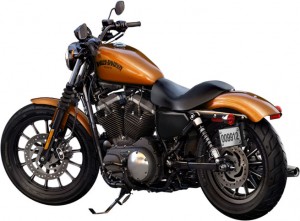 At the center of the design of the 2014 Harley-Davidson Iron 883 is the long, low frame that the manufacturer has come to be known for. The seat height is just 25.7 inches, allowing riders to sit back and find the most comfortable position possible. Handlebars and hand controls have also been altered to create an intuitive experience where all aspects of the bike function smoothly.

Several improvements have been made to the Iron 883 compared its predecessors. A new braking system adds to the responsive handling and safety features of the bike, and an optional anti-lock brake allows riders to indulge in even more control.

Final Thoughts - A Style All Its Own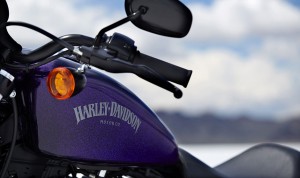 The appearance of this Harley-Davidson is undoubtedly the first thing you will notice about the Iron 883. Not only does it boast several retro-style accents, such as bullet taillights and a minimal design, but it merges this throwback look with several modern aspects. For example, the bike is blacked out - there is very little chrome on the machine, and much of its exterior is outfitted with black rubber or black matte paint. That's not to say there are no opportunities for adding some of your own personality, however, as the Iron 883 can be customized with unique candy colors like tan or purple along parts of the frame.

To top it all off, the bike has a 3.3-gallon fuel tank and averages 51 miles per gallon for combined city and highway miles.

2014 Harley-Davidson Sportster Iron 883 Image Gallery
(Click for full size images)