Famous Faces Participate In Motorsports Tests
Chaparral Motorsports
|
September 8, 2013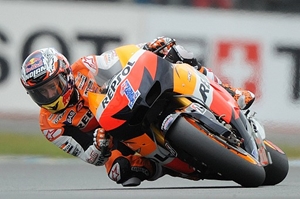 The big names in sport bike races may be racing in the major races on the calendar, but several other familiar faces are taking part in important testing. Casey Stoner and Nicky Hayden, who were two of the most competitive riders during their time in MotoGP, have been testing machines for a few prominent motorsports teams. Despite the hype surrounding the practice runs, there are no immediate plans for either rider to return to the grid.

Former two-time MotoGP champion Stoner, who retired after the 2012 season, has been testing Honda machines for his former factory team. Most of the work is taking place in Japan, and Honda officials hope Stoner's expertise will help the brand perfect the bikes for its two MotoGP riders, Dani Pedrosa and Marc Marquez.

While Stoner may be testing Honda motorcycles for future generations of riders, former MotoGP competitor Nicky Hayden is focusing on his own future. Hayden has been at the Mugello circuit in Florence, Italy, to test ride the Ducati 1199 Panigale. It seems Ducati is eager to sign the American rider to race for its World Superbike team, but rumors are swirling that Hayden is looking for a more competitive package - one that could be found with American Honda. Hayden, who was the 2006 MotoGP champion, has expressed a desire to stay at the top level of competition, and it's unknown if he would sign on to race for a Superbike title when MotoGP teams such as Honda are calling.