Next Bruce Willis Bike Goes Up For Auction
Chaparral Motorsports
|
September 6, 2013
[caption id="attachment_28517" align="alignright" width="300"]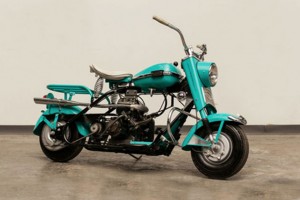 Bruce Willis Auction - 1962 Cushman Eagle[/caption]

Fans of movies and motorsports may want to pay special attention to a new bike up for sale. A 1962 Cushman Eagle belonging to actor Bruce Willis is now on the auction block, with all proceeds from the motorcycle benefiting The Boot Campaign, which supports military personnel as they reenter civilian life.

Willis originally donated five motorcycles from his private collection to be sold for the charity. During the course of 2013, three of these have already found new owners. Prior to this Cushman Eagle, The Boot Campaign also auctioned a 1988 Yamaha TW, a 1991 Yamaha XT 350 and a 2005 Ducati 1000DS.

"I wanted to use my bikes in a way that would benefit our military service members, and I am thankful to have found the Boot Campaign as the catalyst for using my bikes in a way that will give back to our country's true heroes," Willis said when the auctions began. "These bikes have been a lot of fun to ride, and my hope is they can do a lot of good for our veterans."

Fans can begin bidding on the final bike from Willis' collection, a 1972 Harley-Davidson Ironhead Sportster XLH, in October.