The Beatles And Harley-Davidson: An Unlikely Pairing
Chaparral Motorsports
|
September 2, 2013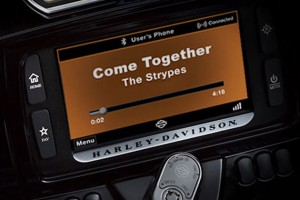 Harley-Davidson's 2014 lineup of touring motorcycles has been making waves for its innovation and luxury features, but its most recent press stunt is sure to garner even more attention for the brands newest bikes. Harley announced a partnership with Universal Music Enterprises, which will see a cover of the classic Beatles song, "Come Together," performed by The Strypes, provide the soundtrack to H-D's newest commercial for the lineup, which will be sure to have motorsports fans young and old tapping their toes.

"'Come Together' is not merely a song in our spot - it's an anthem for our relationship with our fans," Mark-Hans Richer, H-D's senior vice president and chief marketing officer, explained. "They're at the heart of what we do. We help our customers express themselves through our motorcycles, clothing and experiences."

The tune itself is a very appropriate folk tribute to the British pop sensation, with meandering guitar licks and a soulful, raspy voice crooning the lyrics. Hailing from Ireland, The Strypes still manage to capture the essence of Harley-Davidson with this track, which is perhaps why the brand chose the cover to represent its newest motorcycles. the R&B rock group combines jazzy blues riffs with fast-paced drum beats to create an edgy sound that flows smoothly over the ears, much in the way Harley's new bikes offer a perfect combination of class and toughness that the brand has come to be known for.